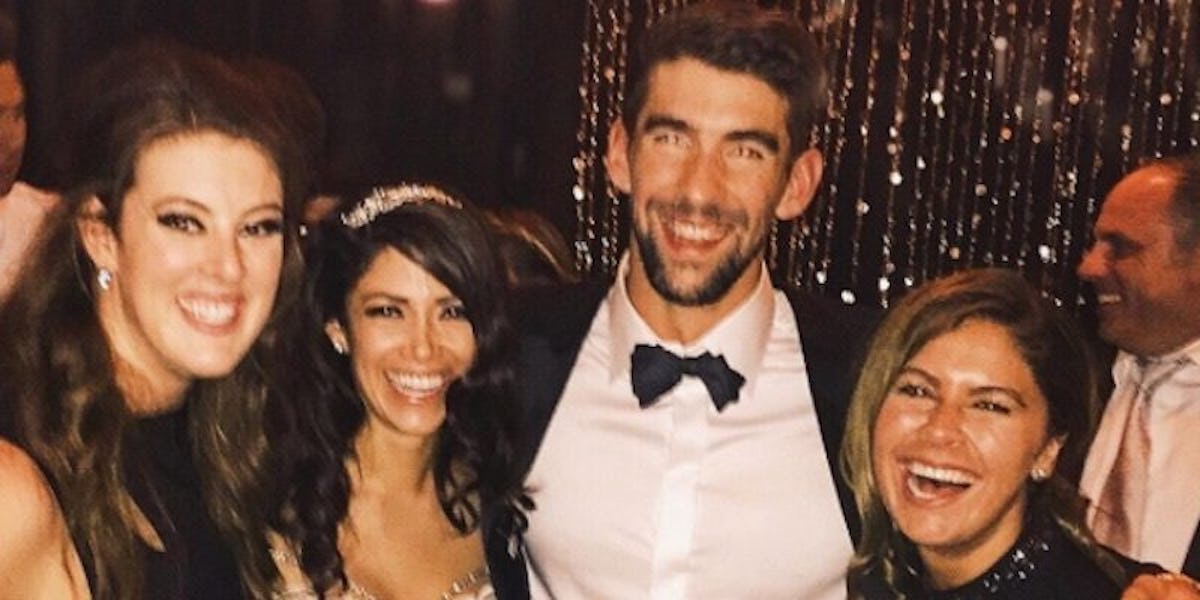 Michael Phelps And His Wife Had A 3rd Wedding On NYE And The Pics Are Glamorous
Michael Phelps and Nicole Johnson celebrated their recent wedding not one, not two, but three times because that's what you do when you're rich and famous.
The couple had a wedding reception this New Year's Eve — which is actually the third time they've celebrated their marriage since it happened in June.
Friends uploaded pictures to Instagram of the 2017/marriage party in Phoenix this weekend.
The first wedding celebration we're counting here is the actual ceremony, which happened in secret on June 13, 2016, in Paradise Valley, Arizona.
Apparently they got hitched a little earlier than planned, just to make international traveling with their newborn son easier.
Phelps told Sports Illustrated,
Boomer's last name was Phelps and Nicole's was Johnson, and that was going to make overseas travel more difficult. We were getting married anyway, so we just did it.
The public didn't find out Phelps and Johnson got married until months later.
So that then explains the second, official second ceremony, one that the public was in on, in Mexico in October.
It's less clear why they then felt the need to have this third reception, months later.
But apparently the Olympic swimmer and former Miss California have been planning a wedding bash for New Year's since that first marriage in June.
Hey, the man has 23 Olympic gold medals, so let him relive his wedding as many times as he wants, right?
Anyway, it looks like it was a great third wedding party, as far as third weddings go.
Everyone was dressed to the nines, in 1920s-esque suits and gowns.
Boomer did not make an appearance, as far as we know, but the little dude was probably having a great time chilling in the pool, just like his dad taught him.
Anyway, congratulations to Michael and Nicole!
(But let's agree to cap it at three weddings, mmk?)
Citations: Surprise! Michael Phelps and Nicole Johnson Had a Third Wedding on NYE (Cosmopolitan)