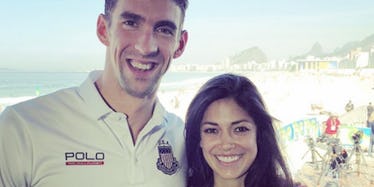 Michael Phelps' Fiancée Reveals How They Dealt With Their Dramatic Breakup
Instagram
It can't be easy being engaged to the most decorated Olympic athlete in history.
And yet, the stories of the spouses of the male and female athletes we praise like demigods year after year are rarely told and/or listened to.
Nicole Johnson, fiancée of Michael Phelps, spoke to Cosmopolitan about the experience of being engaged to him, and what it's like to bring a 3-month-old baby (named Boomer) to an event as hectic as the Olympics.
Boomer has his own Instagram account, which has now exploded, bringing in over 650k followers (Johnson's own Instagram is not too shabby either, at 410k followers).
Johnson says she was surprised everyone was so into it, but the family is taking it all in stride.
It turns out, Michael runs the Instagram.
He asked me if I wanted the password to post pictures on it and I told him no because I love watching him do it. I send the pictures and Michael does the posting.
Of course, in the interview with Cosmopolitan, the reporter asked about whether or not Phelps was actually retiring. Johnson has likely gotten this question again and again and is probably sick of it.
I look at it a few different ways. I don't see him coming back because he went out exactly how he wanted to go out, and he's happy, and he did what he wanted to do. He wasn't forced into it. From that standpoint, I don't see him going back.
But then she gave this insight on the matter:
Then again, you never know. Maybe he misses it so much and maybe Boomer convinces him that he has to go back so Boomer can remember it.
The interviewer then went on to ask how Johnson imagines her life will change after Phelps retires.
Assuming he stays retired, it's just us being able to enjoy our relationship.
She goes on to admit it was both good and bad that "Michael had to put swimming before us in a lot of instances," but now, she says, they "get to have fun."
We get to enjoy parts of life that everybody gets to on a daily basis that we had to step away from so Michael could go and do what he needed to do.
Johnson then spoke about the time when the couple briefly split up before getting back together. It must be difficult for the public to know about the ups and downs of your relationship, but she explains that in her mind it was for the best.
As she puts it:
It was definitely bad timing. Michael and I both know that had we tried to have a child and get married in the previous time we were together, it probably would not have ended pretty. We both had a lot of growing up to do. We both had a lot of learning about ourselves to do. I don't think you can be in a good relationship unless you love yourself to the fullest and you want to help the other person become a better person. We definitely needed that time apart to recognize that about ourselves and to appreciate one another.
Still, she doesn't stray from the fact that it was immensely painful at times.
There definitely were times, and I think Michael would say the same thing, where I hated him. We were at odds at times. Even when I loathed him, there were still times when I was like, 'God, I wish I was with him.'
It's so rare that we get to hear from those in the stands as we all watch the men and women defy human biology on our televisions.
We see these athletes emerge, fully formed and ready to compete, but we don't have access to the process that gets them there, nor the loved ones who are affected by the wake they leave streaming behind them as they pursue their lofty goals.