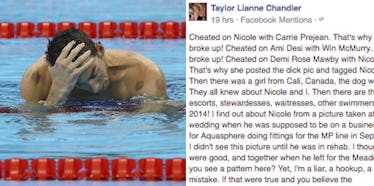 Michael Phelps' Ex Claims He Cheated On Fiancée With Escorts In Vicious FB Rant
REUTERS/Facebook
Tuesday night, US Olympic swimmer Michael Phelps captured his 20th and 21st Olympic gold medals, and while today should purely be a celebratory occasion, it appears there's at least one person who's not exactly in the mood to party.
Last November, Michael Phelps' alleged intersex ex-girlfriend, Taylor Lianne Chandler, went on an epic Facebook rant comparing Phelps' sex life to that of Charlie Sheen.
That rant came just hours after Phelps posted a picture on Instagram to announce he and his now-fiancée, Nicole Johnson, were expecting a baby boy.
Now, following his historic night at the 2016 Summer Olympic games in Rio, Chandler has once again taken to Facebook to rant about her alleged former lover.
(I'm sensing a pattern here.)
Below, is Chandler's post, in which she clearly tried to absolutely demolish Michael Phelps.
Here are a few of the highlights from Taylor Lianne Chandler's Phelps rant:
Cheated on Nicole with Carrie Prejean. That's why they broke up! Cheated on Ami Desi with Win McMurry. They broke up! Cheated on Demi Rose Mawby with Nicole. That's why she posted the dick pic and tagged Nicole. Then there was a girl from Cali, Canada, the dog walker. They all knew about Nicole and I. Then there are the escorts, stewardesses, waitresses, other swimmers, all in 2014!
Chandler continued,
Why did he not break up with me when he left for rehab? Ask yourself what I had to gain by lying about this when I'd kept our relationship private and referred to him on my social media as my 6'4 Body Heater? He got a DUI and two people paid the price for it! I have been victim shamed for almost a year and a half, while he is a hero and role model. I did absolutely nothing wrong, but in defending myself and wanting him to acknowledge the truth I'm a stalker, psycho, evil, abusive, nutcase that won't let it go! Try walking a mile in my shoes. Try having your whole life turned upside down and every private, ugly, embarrassing, personal moment made public.
As far as why Chandler chose now to speak out, well, she kind of answers that question in her Facebook post. She wrote,
Now with the Olympics I can't escape him anywhere I go. He lied to all these women. Wake up world and stop being blinded by the gold! You have systematically had the wool pulled over your eyes for years! Stop making me the villain. Ask him the important questions and make him accountable for his actions!
If the above scathing words aren't enough to make Chandler's point, there are the following Instagram pictures she posted to prove how seemingly obsessed she is with Michael Phelps.
Some of the above captions are positive, while most of them are negative, so I'm not really sure what to make of this.
Citations: Michael Phelps' Alleged Intersex Ex-GF Just Went Full Scorched Earth On Him On Facebook (BroBible)