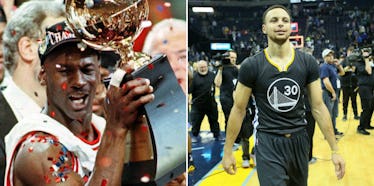 Michael Jordan Sends Amazing Message To Warriors After Record-Breaking Win
REUTERS/USA TODAY Sports-Nelson Chenault
Wednesday night will go down as one of the greatest in NBA history. Kobe Bryant dropped 60 points in his final game with the Lakers, and Steph Curry and the Golden State Warriors broke the record for most wins in an NBA season.
By finishing the season 73-9, Curry and the Warriors surpassed the 1995-96 Michael Jordan-led Chicago Bulls' mark of 72-10.
But, despite having his team's record broken, Michael Jordan tweeted the sincerest congratulations to the 2015-16 Golden State Warriors.
Jordan wrote,
I want to congratulate the Warriors on their amazing season. The game of basketball is always evolving and records are made to be broken.
Live in the present, folks. Nothing the Warriors or any other team will do in the future will diminish the greatness of Michael Jordan and his Chicago Bulls. It's refreshing to see that in sports.