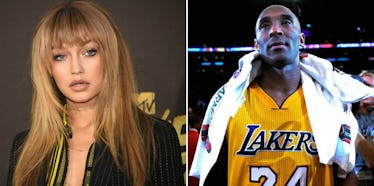 Gigi Hadid Posted The Most Adorable Tribute To Kobe Bryant
REUTERS/Phil McCarten/USA TODAY Sports/Robert Hanashiro
Last night, Los Angeles Lakers great Kobe Bryant scored 60 points in his final professional basketball game. There were few dry eyes in the house at the Staples Center in Los Angeles, and the outcry of love and support on social media was equal to that.
One of the most thoughtful tributes posted was that of Gigi Hadid.
Along with that picture of her rocking a Kobe jersey and blowing out a Lakers-themed birthday cake on her 11th birthday, Hadid wrote on Instagram,
Growing up a #KOBE fan made me want to be a great athlete and a great sports fan: two things that have brought so much joy to my life Emotional tonight #8 #24 Thank you for 20 years!
I think it's safe to say Gigi Hadid echoes the sentiments of Lakers and NBA fans everywhere.