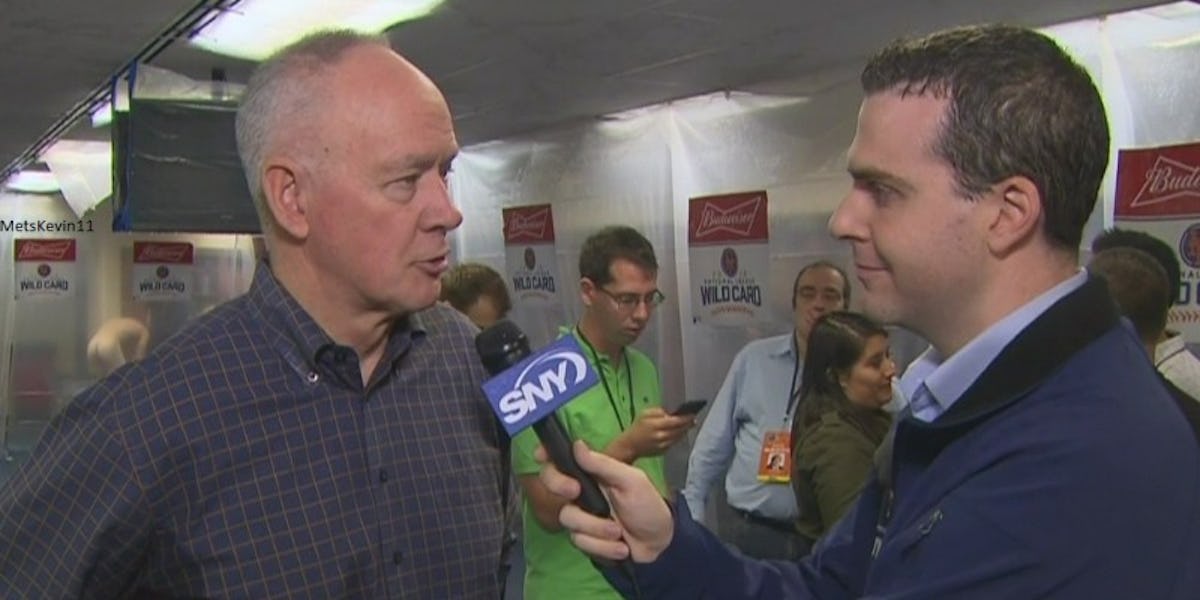 NY Mets Player Shows His Naked Butt On Camera During Postgame Interview
Twitter
On Saturday, following a 5-3 victory over the Philadelphia Phillies, the New York Mets clinched a spot in the 2016 MLB postseason.
This is just the second time in franchise history the Mets have secured a playoff berth in back-to-back seasons, and when you combine that tidbit with the fact this team was four and a half games out of a wildcard spot on August 21, you can understand why the Mets' locker room celebration was pretty epic on Saturday.
Sure, the team is only guaranteed one playoff game right now, a Wild Card matchup against the San Francisco Giants on Wednesday night in Queens, but hey, live in the moment, right?
During the postgame celebrations on Saturday, SNY's Steve Gelbs entered the Mets' locker room to interview the team's GM, Sandy Alderson, about the improbable accomplishment of reaching a second consecutive postseason.
The interview, as you can see in the video below, was pretty standard, but what wasn't standard was the moment the SNY cameras broadcasted a butt-naked Mets player in the background of Sandy Alderson's interview.
I mean, just look at that butt. It's a great butt, don't get me wrong, but what are the folks at SNY thinking? I know broadcasters want to give fans as much access to the game as possible, but this might be taking it a butt, I mean a bit, too far.
Apparently, Twitter is rife with speculation that the butt in question belongs to 23-year-old outfielder Brandon Nimmo. Since you've already seen his alleged backside, here's a look at Nimmo from the front.
Good looking guy, no doubt, but I would've been happier if SNY kept its broadcast a little more PG. I'm supposed to be happy the Mets are going to the playoffs, not rubbing my eyes wondering what just happened.
In any event, let's go Mets!
Citations: A Naked Mets Player Made An Appearance On Live TV After The Team's Wild Card-Clinching Celebration (BroBible)