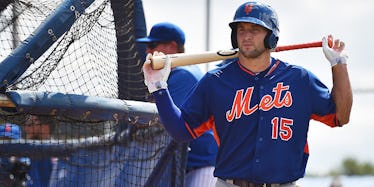 The Mets Found A Sneaky Way To Make Tons Of Money Off Tebow's Baseball Career
USA TODAY Sports
The New York Mets are not supposed to be able to sell baseball jerseys of players not on their major league roster, and yet, the team found a way to do it.
Now, because of a special agreement signed between Tim Tebow and MLB jersey manufacturer Majestic Athletic, Tebow's minor league jersey is being sold -- and it's an instant success.
According to ESPN's Darren Rovell, the Mets' no. 15 Tebow jersey was the best seller on Major League Baseball's online shop. It was also the top seller on the Fanatics online store.
That success is only made possible by a loophole. Major League teams are only allowed to sell jerseys of players that are on their 40-man rosters. According to that custom, a Tebow jersey shouldn't be a reality.
But according to reports from both Rovell and USA TODAY's AJ Perez, the former Heisman Trophy winner signed a "bridge agreement" with Majestic. And now, poof, Tebow's jersey is available as a "special event item" online.
It's a genius move on the Mets part, really. But it's also a move that makes it pretty easy to call BS on, well, all that talk about Tebow's baseball career not being a publicity stunt.
When the former quarterback was signed, general manager Sandy Alderson told reporters,
This was not something that was driven by marketing considerations or anything of the sort. We are extremely intrigued with the potential that Tim has.
OK, sure.
Meanwhile, at 29, Tebow is the oldest player for the Mets' Instructional League squad and hasn't played organized baseball in over a decade. Also, his "biggest struggle" is a doozy.
Nevertheless, the loophole seems like it gives New York the ability to make a ton of money off Tebow's baseball career.
Jersey sales online are ordinarily split between all MLB teams, but since Tebow does not have an "ordinary" agreement, the revenue from his $199.99 jersey will be split between just the team, the player and the manufacturer, according to USA TODAY.
Depending on the split the Mets negotiated, the team might even be able to make back the $100,000 bonus they gave Tim Tebow -- and then some -- real quick.
Citations: Tim Tebow's No. 15 Mets jersey tops day's sales for online shops (ESPN), Why Tim Tebow's jersey is available for purchase (USA TODAY), Mets sign former QB Tim Tebow to minor league deal, 'intrigued' by potential (ESPN)