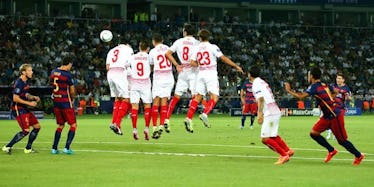 Messi Managed To Accomplish Something For The First Time In His Career
Leo Messi has achieved practically everything from individual and team standpoints -- for Barcelona and Argentina.
However, The Little Magician never scored two direct free kicks in an official match.
That all changed, though, with less than 15 minutes played between Barcelona and Sevilla during today's UEFA Super Cup.
After Sevilla's Éver Banega opened the scoring with a beautiful free kick just three minutes into the match, Barcelona's captain answered with not one, but two magnificent free kicks of his own.
Messi scores twice from a direct free kick in an official match, for the FIRST time (586th match). — Infostrada Sports (@InfostradaLive) August 11, 2015
Messi got Barcelona on the scoresheet with this cracker after just seven minutes.
Then, he outdid himself with an even nastier free kick only nine minutes later.
Geez, what's he got in store for the second half?