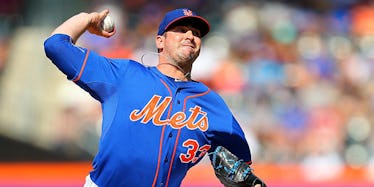 Matt Harvey Is Still The Hero The Mets Need, Just Not This Season
Getty Images
Last week, there was a lot of scuttlebutt around the New York Mets organization concerning the innings limit given to starting pitcher, Matt Harvey, prior to the 2015 season.
Coming off of the Tommy John surgery, Matt Harvey's doctor recommended a 180-innings cap for the pitcher to avoid heavy stress on his surgically-repaired elbow and to increase the potential longevity of Harvey's career.
Most people, if not everyone, believe Matt Harvey needs to continue pitching for the rest of the regular season and throughout the playoffs.
I mean he's the ace of the Mets pitching staff. He'd definitely be the Game 1 starter for the team.
Many think if Matt Harvey is a true competitor, he'd want to keep pitching and try to win games for his squad.
Of course, we want our professional athletes to have those competitive chips on their shoulders. We want our favorite players to do whatever it takes to help their teams get victories.
Matt Harvey himself stepped up this weekend to address the rumors of shutting it down early. He took to the Player's Tribune to directly respond to all the chatter.
"As an athlete, when your surgeon explains to you the risks of exceeding a certain number of innings, it can be alarming. You listen. "I love to play baseball and I love winning even more. I would not give that up for anything. I also know I want to be able to play and win for a long time. "But there has never been a doubt in my mind: I will pitch in the playoffs. I will be healthy, active and ready to go."
So, Harvey is planning on playing as much as he can. Can we relax now? Can we stop challenging his competitiveness, motivation and overall masculinity now?
Here's the thing about Matt Harvey: He's a 26-year-old starting pitcher who makes around $600,000 a year. That's absolute pennies compared to other number one starters around the league.
For comparison's sake, 26-year-old starting pitcher for the Boston Red Sox Rick Porcello is making $12.5 million this year. He's 7-12 with a 5.12 ERA. That's, like, awful.
Matt Harvey should 100 percent rest for the remainder of the season. He needs to prepare himself for a long future in the big leagues.
He's just coming off surgery, and if he destroys his arm again, there's no saying he'll be able to come back from it. He has a big contract ahead of him, and the health of his arm is going to be a huge factor.
The New York Mets also have an abundance of young, underpaid pitchers in their rotation.
With Jacob deGrom, who's pitching better than Harvey this year, and rookie Noah Syndergaard poised to get contract extensions soon, Harvey needs to get his before it's too late.
Athletes are the only people we demand to work as much as possible.
In every other profession, we allow people who are hurt on the job to take as much time off as they need to recover, but we rush back professional athletes. I won't go to work if I have a small cold, let alone if I'm coming off Tommy John surgery.
Take the rest of the year off, Matt Harvey.
I understand New York Mets fans want to take advantage of an extremely rare time, when they're actually leading the division and are more than likely making the playoffs.
It's been almost a decade since the team has looked this good, but we should have faith in the Mets.
As I mentioned earlier, they having starting pitching for days. If they add in Bartolo Colon and Steven Matz into the rotation, they honestly don't even need Harvey.
Let him rest so he can be there for you next year and many years to come. It'll all be okay.