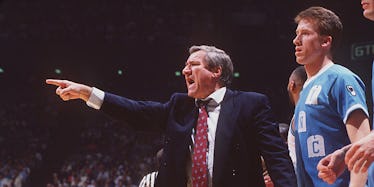 These Amazing Vintage Photos Truly Capture The Spirit Of March Madness
ALLSPORT
The NCAA basketball tournament is unlike any other championship event for one main reason: It's consistent.
The Super Bowl can provide a lopsided matchup. The NBA playoffs can be easy to predict. The tournament, on the other hand, is a different story.
You know what you're going to get with March Madness: upsets, "Cinderella" stories, tears, cheers, brackets, buzzer beaters and future stars claiming their one shining moment before they go to the pros.
That's what the next three weeks are all about. Take a look through the archives of Getty Images, which has been capturing college basketball's best moments for decades, and you'll realize just that.
Check out these 10 awesome, vintage photos with added commentary from Getty's Director of Sports Photography, Travis Lindquist.
1959 - The Big O, Oscar Robertson
Back in the early days of sports photography, in order to shoot fast enough to capture action, you had to have a flash on the camera, which hasn't actually been allowed on the court in decades.  However, when used, it makes for beautifully exposed pictures - like this one -  that really are the product of a bygone era.
1959 - Flying West
Getty Images Hulton archive is the largest privately owned archive in the world. With over 80 million images, we get to uncover rarely seen image of sporting heroes like this image of Jerry West as a young player, who went on to be a prolific guard and coach for the Lakers.
1983 - Jimmy V, for Victory
Jimmy V is a legend of college basketball.  Most people will remember Jimmy's inspiring speech at the ESPY awards, shortly before he passed away from cancer, but what I like about this picture is that it allows us to remember him how he should be remembered; in his prime and having just won the Championship.
1989 - The Late, Great Dean Smith
Dean Smith is revered in North Carolina athletics and could be considered one of the most prolific head coaches in college basketball history.  From their vantage point on the sidelines, our photographer really captured the passion and intensity that he always brought to the game.
1990 - Tate Brings Madness to the Meadowlands
It was harder in the early days to capture the action like we can now.  This year we'll have three photographers using 22 remote cameras to get every angle of the court and net.  Technology has really changed the industry.
1991 - Coach K's First Triumph
This really shows the beginning of an era of Duke basketball, with Coach K winning his first of five, Final Four championships.
1991 - Shaq Diesel
Getty Images shoots over 30,000 sporting events a year and has been covering March Madness now for decades.  It gives us the privilege of being able to capture icons of the game like Shaquille O'Neal, before they become household names.  This photo really highlights how dominant he was even, as a young player.
 1995 - Marcus Camby at the Final Four
With basketball, it's not just about the game; a lot of the emotion is on the sidelines.  Getty Images photographers know that the players and coaches on the sidelines also really help to tell the story.
1995 - Nolan Richardson, Corliss Williams and Razor Sharp Arkansas
Getty Images photographers have amazing access from the sidelines, that enables them to capture intimate moments like this one between a great player and a great coach.
1996 - The Agony of Defeat
It's often the moments that our photographers managed to capture that really tell a deeper story.  Here you have Gerald Eaker, a man barely in his twenties watching the waning moments of a difficult game.  You can really feel his misery in this photo.