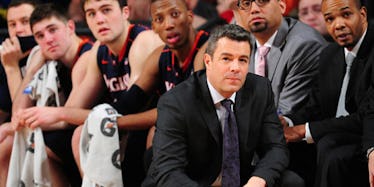 These Hot March Madness Coaches Are The Real Elite 8 Of The Tournament
Facebook
The stereotype I've often heard as a woman participating in March Madness selections is that we pick according to the cutest mascots, team colors and seeds. Personally, I fill out my bracket with history, talent, coaching and injuries in mind.
Michigan State is typically playing its best basketball of the season come March, and Duke, regardless of their rank, seems to struggle in the first couple rounds of the tournament, often making an earlier exit than expected.
I know not all women (or men, for that matter) who participate in March Madness pools are basketball fans. They join for a variety of reasons: the fun of the competition, to make happy hours spent watching the games more interesting and the cash-out waiting for the winner at the end.
That being said, I'd like to think even the ladies who aren't fans of the game are more advanced, creative and original than to pick on color combinations and mascot appeal alone.
If you're going to make your selections based off something other than the game itself, why not make them based off the good-looking coaches sitting court-side?
I've scoured through this year's field and put together the top eight teams based on physical attractiveness, success in the game and personality of their head coaches. If you're going to watch and root for random teams, you may as well enjoy the view.
8. Andy Toole (Robert Morris)
He's young, attractive and athletic, having played the game at Penn. The reason he's not higher on the list is because VCU is a 16-seed team.
Having escaped North Florida last night, they play Duke in the next round of the tournament and the odds are, we're not going to see much of him on the sidelines.
7. Chris Holtmann (Butler)
I was a big Brad Stevens fan, so seeing anyone else lead Butler just doesn't have the same effect.
That being said, Holtmann has impressively carried the program after unexpectedly stepping into the head coach role this season.
6. Scott Drew (Baylor)
Seemingly out of nowhere, Baylor has become one of the most prominent sports schools in the country, and Drew is largely to thank.
He and his Southern charm have turned the Bears' basketball program around since he assumed the head coaching position.
5. Shaka Smart (VCU)
Not only is Smart incredibly attractive, but also extremely loyal.
After leading VCU to a Final Four, he had a number of schools with heftier paychecks interested in him, but he chose to stay at the mid-major.
4. Ben Jacobson (Northern Iowa)
Jacobson led the Panthers to a five-seed in the NCAA tournament; he's also a Good Samaritan.
In February, he stopped his car to help a high school student who was stranded in the snow. He didn't just call AAA; he worked to physically dislodge the car. Enter modern-day Clark Kent.
3. Jay Wright (Villanova)
Nova is a number one seed in the tournament and Wright has been referenced as "George Clooney-handsome."
Any further questions?
2. Tony Bennett (Virginia)
If choosing him based on the fact he shares the same name as the legendary crooner isn't enough, one glance at his pearly whites should sell you.
Not to mention, UVA is one of the best teams in the nation and has a solid chance of making it to the Final Four.
1. Fred Hoiberg (Iowa State)
Hoiberg is so beloved, he's referred to as "the mayor" in Ames. He is the total package.
Even as a die-hard Iowa fan, I can't resist being a bit enamored by the Cyclones' coach. ISU topped Kansas in the Big 12 Championship game, and undeniably enters the tournament as one of the top teams to watch.
If you've reached an age that checking out college point guards no longer feels acceptable, take comfort in knowing there's still some good man candy on the hardwood.
Grab a Snickers and take a seat. It's tournament time.