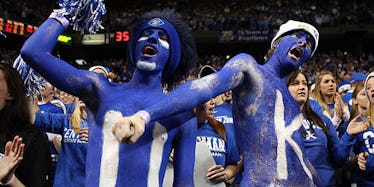 Bluegrass Birthright: Why I Bleed Blue For Kentucky Basketball
Getty Images
The social contract we all share has a little piece that requires us to keep up with some portion of knowledge for the purpose of small talk.
Very rarely do I have the time or ability to plan a full week of activities, but most of the time, I know the weekly forecast. Why?
Simply because if I find myself in a place with people I don't know for a period time that requires some form of communication (to keep things from turning awkward), at least I have, "Wednesday is supposed to be nice."
I know there are common topics most people have in their repertoires, but it really is amazing that the majority of the entire state of Kentucky can fall back on one solid topic, even more so than the weather.
Math may be the international language, but here in the Bluegrass, we have Kentucky Basketball.
I was 2 years old when Christian Laettner hit a heartbreaking buzzer beater in the East regional championship to end a historic UK season in overtime.
The final score was 103-104. To this day, I (along with every other diehard UK fan) will change the channel at the mere mention Laettner's name.
I was 6 when Tony Delk, Antoine Walker and Ron Mercer led UK to a 76-67 victory over Syracuse.
I still have the size 6 UK cheerleading uniform I wore and the pictures of the after party my parents threw.
At 7 years old, I cried myself to sleep the night Arizona won the championship over us at 84-79.
I was allowed to miss a day of school because I barely got any sleep since I kept replaying the game over and over again in my head.
In 1998, when we won the National Title again, I saved all my "Comeback Cats" memorabilia.
Somewhere, in a box folded neatly in tissue paper, is a Championship banner replica that used to hang above my childhood bed.
To put it lightly, I've always loved my Wildcats. I'm not alone. Big Blue Nation is the best fan base in college basketball. Forget the Cameron Crazies, the Tar Heels and the Jayhawks.
I learned my first curse words under the loose supervision of my father during UK basketball games. I was also very quickly schooled in which teams were undeniably evil and couldn't be tolerated.
Duke (the team referred to as swine by Hunter S. Thompson) is, of course, number one, and Louisville is a close second.
I also learned the weight these games hold for people all over the Bluegrass. "It's just a basketball game." No, it isn't. Not in Kentucky. Not here.
There is so much more to Big Blue Nation, and there is more to UK basketball than just winning a championship, hanging banners or even going 40-0.
Do people not wonder why students gather on State Street to start all-out riots?
Kentucky basketball is legendary, and everyone wants to be a part of that story, whether as a spectator, student or fan.
Every fan wants that special story to tell his or her grandchildren.
I was in a motel swimming pool in Lexington in 2000 with my Dad, the day before he was to go under the knife for major back surgery.
That day, Tayshaun Prince scored 31 points, with five consecutive 3-pointers to lead UK to victory against North Carolina, 79-59. I was 10.
The motel staff had wheeled out a big screen TV so all the people swimming could see the game.
Those are the kind of things that happen on game day in Big Blue Nation.
Even though I try not to, I remember how awful the Billy Gillispie era was. It was absolute torture having to endure terrible seasons with a coach who couldn't handle the pressure of being a coach, and a team that seemed to be in turmoil.
Even though Cats fan are loyal, we still have a driving desire to win.
I was 19 years old when the University of Kentucky hired John Calipari to be the head coach.
Was I skeptical about Coach Cal? Wasn't everyone? But man, I was happy as hell to have him.
I still have a ragged old UK tee shirt dated from 2009 that simply reads, "We're Back." Back then, I wasn't sure how true that was, but now I am certain.
I was in Lexington the night that West Virginia beat Boogie Cousins and John Wall on the road to the Final Four.
I've never heard Waller Avenue as quiet as it was after the game. I locked myself in the bathroom at a house party and cried.
I couldn't believe it was all over. I had just turned 20, and I felt the same heartbreak I had at age 7 when Arizona slipped past us in the NCAA finals.
No one knows how heartbreaking it is to put that much love into a team better than Big Blue Nation.
In 2012, I was pregnant with my first child, but I stayed glued to all things UK.
I watched every Anthony Davis interview, Googled every stat and brushed off every loss. "It's always good for them to lose early in the season."
I bought into all of it. When they won the Big Dance, we had a bonfire at my house and may (or may not) have burned a couch. I'll never admit it either way. It was a happy night in all of Kentucky.
The incredible tournament run of last year's team shocked not only the nation, but even the truest of the True Blue Fans.
I picked up chain smoking again, trying to watch the wire-to-wire competition.
I would shake every time the ball tipped off and said my Hail Marys many times, despite the fact I'm definitely not a Catholic.
Looking back, I was certainly heartbroken we didn't take it all. But, my heartbreak didn't overshadow how proud I still was to be a Wildcat.
No loss has ever affected me the way this year's loss to Wisconsin did. I would be lying if I said I am over it, even today.
Never before have I ever loved the team like I did this year.
Not only was I emotionally invested, but I would have been willing to bet my house they would go 40-0 and take it all.
I scrimped and saved to go see them in the tournament. I argued with Wisconsin fans over Twitter like a kid.
I cried the next morning when I woke up and found out it was real and not a dream. We came up short. Our boys are leaving, but I still love that team.
I will tell my grandkids how much fun this season was. I'll always remember them.
I speak on behalf of many, many, diehard fans of Big Blue Nation.
Loving UK Basketball, for those who were born and raised in Kentucky, is a privilege and a birthright.
I thank God I'm from Kentucky because honestly, how horrible would it be to have to root for anyone else?
I've laid out all of my big UK memories. Those memories are what I bring to the table when the old guard starts to talk about UK basketball.
Many will speak of Cawood, Rupp, Joe B. Hall, when the Goose got Loose, Pitino, The Untouchables, the losses and the heartache.
Every UK fan has these moments in their hearts and brains. We all talk about these times around dinner tables, replay them at Barber shops and immortalize them in our hearts.
It's something very special to love a team and program so much that you associate their victories and losses with your major life moments. I do, and I always have.
Now, I see my eldest son, at 3 years old, pick up a basketball and say he wants to be like Willie Cauley-Stein.
I see him wake up every Caturday and grab his #15 jersey out of his closet and wear it around town.
He can't read or write yet, but he can identify the UK emblem on anything. He certainly knows how spell out C-A-T-S, CATS, CATS, CATS.
Our grass starts out green, just like our blood starts out red. However, once it grows a little while, and is allowed to bloom, they both turn blue.
Here's to you, Big Blue Nation.