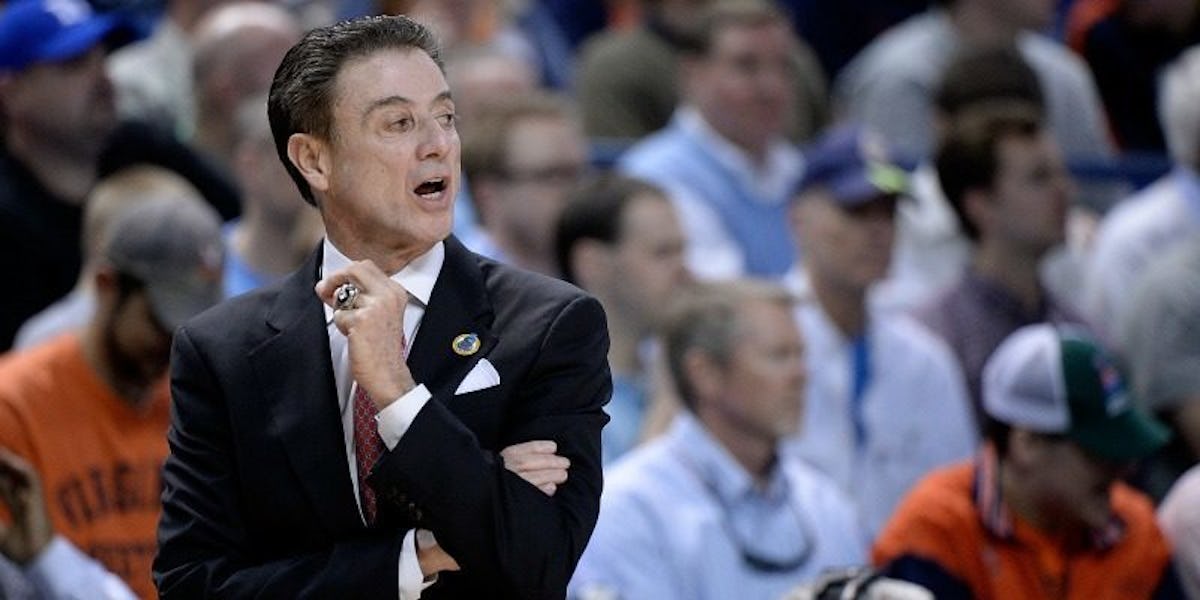 Former Louisville Basketball Players Say Coach Paid For Stripper Parties
Getty Images
According to a report from ESPN's "Outside the Lines," five former basketball players and recruits of the University of Louisville claimed they frequented parties in a campus dorm with strippers paid for by a graduate assistant coach.
The report stated these parties took place from 2010 to 2014 at Louisville's Billy Minardi Hall.
At least one former player claims he had sex with a stripper after she was paid by then graduate assistant coach, Andre McGee.
One recruit, who didn't end up playing at Louisville, said,
I knew they weren't college girls. It was crazy. It was like I was in a strip club.
Earlier this month, Katina Powell, a former escort who allegedly attended these parties, published a book describing almost 24 stripper sex parties that took place on campus during the above mentioned four-year stretch.
Powell said she was paid $10,000 for providing the dancers.
She also claimed she was paid by McGee for "side deals," including sex with recruits, their guardians and multiple Louisville players.
The player who said he had sex with one of the strippers also said McGee gave him dollar bills for tips.
Another former Louisville player said of McGee,
[He] would give us the money, just the recruits. A bunch of us were sitting there while they danced. Then the players left, and the recruits chose which one [of the dancers] they wanted.
Earlier this month, Louisville basketball head coach Rick Pitino denied having any knowledge of the parties. He told ESPN,
Not myself, not one player, not one trainer, not one assistant, not one person knew anything about any of this. If anyone did, it would have been stopped on a dime. Not one person knew anything about it.
Powell said she asked McGee if Pitino knew what was going on. McGee reportedly said,
He's Rick. He knows about everything.
This story goes much deeper than five former recruits and players; Powell told ESPN of numerous former and current NBA players who were also party to the shady dealings on Louisville's campus.
You get the feeling this could only be the tip of the iceberg.
Citations: Former Louisville recruit about his visit: 'It was like I was in a strip club' (ESPN)