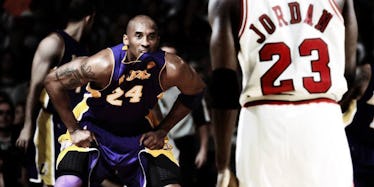 Losing Kobe Bryant Again Makes Us Miss Michael Jordan More Than Ever
Tumblr
The comparisons between Kobe Bryant and Michael Jordan will last way beyond the game of basketball itself.
Their similarities are well-documented at this point, and the mindset for success they share is something you'd find only in a pair of identical twins.
And for so many young kids growing up to love the game we all play, Kobe is their MJ.
When Kobe Bryant lost his second consecutive season to injury earlier this year, we lost more than just the lifeblood of the Lakers.
We lost a piece of Michael Jordan -- or, at least the closest thing to it.
It's no secret Kobe grew up idolizing MJ, but when he entered the league at just 18 years old, it was nothing but business, and he went straight for the throne.
Now, at 36 years old and five rings later, Kobe doesn't mind the comparisons. He relishes in them and understands Jordan helped inspire at least some of his success.
The motivation he has was spurred at an early age when he found out basketball was his passion in life. All he needed was that blueprint to see where he wanted to go.
In a recent interview with Ahmad Rashād, Kobe revealed MJ was, in fact, this figure in his life and he hopes to have the same profound effect on the next "chosen" player going forward.
In today's NBA, you won't find many players like Kobe. He tells it as it is, is never on some bullsh*t and will always be the hardest worker in the room.
Michael Jordan was the same exact way. It's easy to let up once you've achieved a goal you've been working toward your whole life so early in your career, and it's easy to get comfortable.
But, for these two men who share such similar DNA, it only drove them to earn the next and keep pushing for something more.
As for Kobe's work ethic compared to Jordan's, Phil Jackson says he was actually the harder worker. And, according to the man who coached them both, their first exchange foreshadowed Kobe's entire career.
Kobe needs to play for as long as humanly possible. We all saw MJ come back years after retiring to chase what he truly loves.
At 36 years old, Bryant is ready to adapt, sacrifice and remold his game in order to achieve one more dream -- getting that sixth ring and putting him just one away from surpassing Mike.