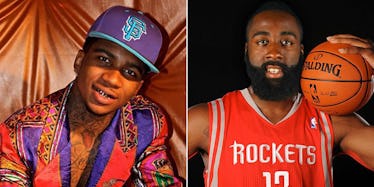 Lil B Makes It Clear His Curse On James Harden Will End The Rockets' Season
Twitter
Few things are realer in sports than the Based God's Curse.
The OKC Thunder star just hasn't been the same since Oakland rapper Lil B (otherwise known as "Based God") put a hex on him.
Not for nothing, but Kevin Durant did this to himself.
I tried to listen to Lil B and my mind wouldn't let me do it....can't believe this guy is relevant — Kevin Durant (@KDTrey5) January 29, 2011
On May 26, 2011 the Based God's Curse was born.
KEVIN DURANT WILL NEVER WIN THE TITLE AFTER HE SAID "LIL B" IS A WACK RAPPER, "THE BASEDGODS CURSE" #THEBASEDGODSCURSE ON DURANT - Lil B — Lil B From The Pack (@LILBTHEBASEDGOD) May 26, 2011
Lil B even challenged KD to a game of one-on-one and dropped this diss track.
Then, this happened:
It's safe to say sh*t hasn't been so easy for Kevin Durant since being cursed.
He was injured for the entire season, the Thunder didn't make the playoffs and now he seems to be at a crossroad in his career.
Sure, he won MVP, but not at the expense of becoming a meme.
Since then, Lil B has lifted the curse from KD, but it looks like the damage has been done.
But as the NBA postseason goes along, it's time for Lil B to find a new victim. Someone who's disrespecting the Based God.
Considering Lil B is a Warriors fan, why not James Harden?
James harden today's win was fun for everyone Lil B cooking dance keep cooking and stealing swag shouts out the real mvp steph curry - Lil B — Lil B From The Pack (@LILBTHEBASEDGOD) May 26, 2015
James Harden has been doing the "cooking" dance a lot recently...
In an interview with Bay Area reporter Marcus Thompson, Lil B said,
I've seen a lot of people stealing from what I do. Some people show love and say thank you and tell me how I was an inspiration for them. So Harden's just getting the rough end.
A dance that originated from the Based God himself.
The real chef, that's Lil B. I got love for Chef Curry. Shout out to Stephen Curry. But it all started from the Lil B cooking dance.
James Harden never gave Lil B his credit and that's when things got ugly.
Go warriors @warriors and let James harden no he doing the Lil B cooking dance if he doing that flickin wrist or whipping he mark - Lil B — Lil B From The Pack (@LILBTHEBASEDGOD) May 21, 2015
I love Texas and I rep Texas but I don't fuck with any suckas that steal from Lil B and don't pay homage or be mean and steal - Lil B — Lil B From The Pack (@LILBTHEBASEDGOD) May 21, 2015
People that steal from Lil B will pay now or later all you have to do is pay respect to the original and the leader blind ones will - Lil B — Lil B From The Pack (@LILBTHEBASEDGOD) May 22, 2015
The curse is now national news on ESPN.
We wouldn't be talking if [the curse wasn't real]. It can't be fake. You see what happened to KD. He was doing great before messing with me.
Memes like this aren't helping Harden...
Because Lil B will be in the building for Game 5.
Ready to lay down the law if he see's James Harden cooking.
It could all end tomorrow.
Citations: Lil B Opens Up on Based Gods Curse on James Harden (For The Win)