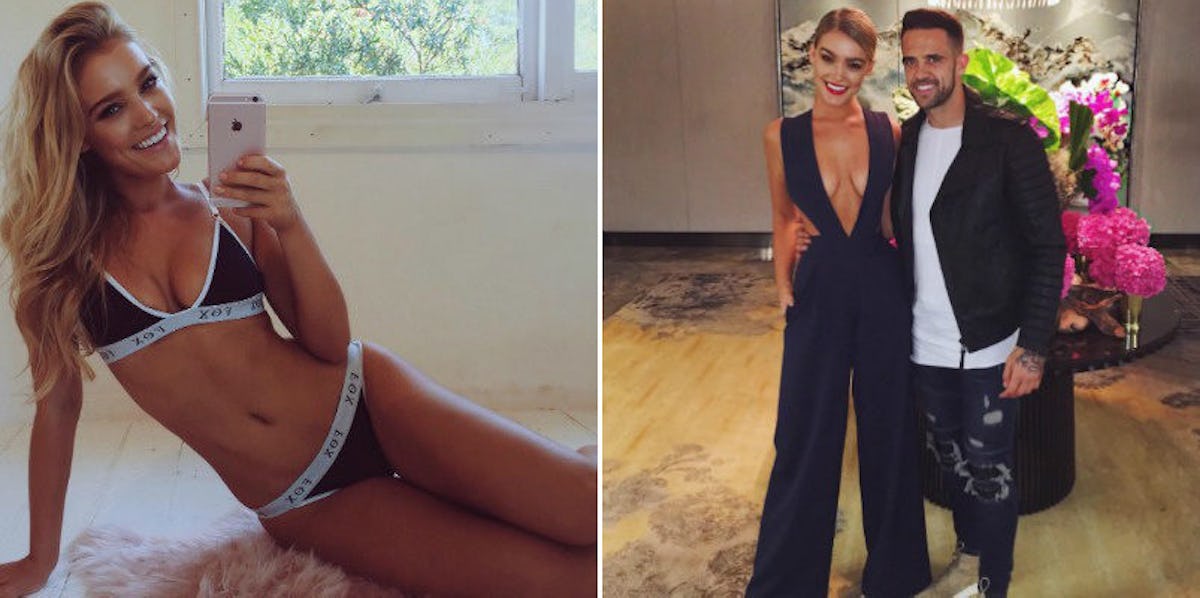 LFC Player Suffers Another Season-Ending Injury, Still Has Hottest GF Alive
Instagram
American fans of Liverpool Football Club woke up Wednesday morning to discover 24-year-old striker Danny Ings has once again suffered a season-ending leg injury.
Anguish for Danny Ings, who needs surgery to repair cartilage damage in his right knee, which rules him out for the rest of the season.#LFC pic.twitter.com/azhv6KUMT3 — Melissa Reddy (@MelissaReddy_) November 2, 2016
Some dudes just have shitty luck, I guess.
However, despite receiving some pretty terrible news on Wednesday, I'm going to go out on a limb here and say it's far from all doom and gloom for Danny Ings.
Why?
Well, last week, Mail Online published a story about Danny Ings' girlfriend, Georgia Gibbs, and you don't have to get too far into the story to realize Gibbs might just be the hottest woman on the face of the earth.
DAMN!!!!! I told you she was baaaad.
Apparently, Georgia Gibbs in an Aussie model who rose to stardom after competing on "Australia's Next Top Model," and man, I'm sure quite a few folks are glad she did.
Sure, Danny Ings' LFC and pro soccer career is in serious jeopardy, but he gets to come home to his smokeshow girlfriend every night!
Cheer up, Danny, and get well soon. As for the rest of you, here's a closer look at the hottest woman alive, Georgia Gibbs.
LFC striker Danny Ings may have suffered yet another season-ending injury, but he still has the hottest girlfriend alive.
Georgia Gibbs is an Australian model.
She rose to fame by competing on "Australia's Next Top Model."
At the moment, Gibbs is based in London, though it looks like she's constantly traveling the globe.
In 2014, this bombshell reached the final of "Miss Universe Australia," but somehow, she didn't win.
That's a travesty for sure, but something tells me Gibbs has enough going for her at the moment.
When I first heard about LFC's Danny Ings suffering yet another season-ending leg injury, I felt for him.
Then, I realized he's dating the hottest woman alive, Georgia Gibbs.
Look, I understand Ings' whole life is dedicated to being a professional soccer player... but look on the bright side, guys.
What if Liverpool's Danny Ings had this massive injury setback and had no one in life to help him get through it -- emotionally and physically?
I'm sure all LFC fans hope Danny Ings can come back even stronger next season, but if he doesn't, well, at least he still has Georgia Gibbs.
Citations: James Pearce (Twitter), 'Happy I'm leaving?' Liverpool striker Danny Ings looks delighted as WAG Georgia Gibbs shows off cheeky Instagram snap (Mail Online), georgiagibbs_ (Instagram)