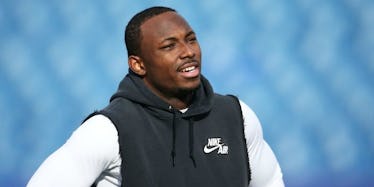 Here's The Video Of LeSean McCoy Allegedly Brawling With Off-Duty Cops
Getty Images
Yesterday, reports surfaced of an alleged club brawl between Bills running back LeSean McCoy and a group of off-duty police officers.
The incident allegedly took place at Recess, a Philadelphia night club, in the early hours of this past Sunday morning. Three off-duty police officers were reportedly involved in the fight with McCoy and three of his friends.
Now, as you can see above, it appears there is footage of this weekend's fight, and the word brawl probably doesn't even do it justice. This thing is more of an all-out melee, really.
The Bills released a statement yesterday, saying they're aware of the incident and are awaiting further details, while reports suggest an arrest warrant for LeSean McCoy is all but an inevitability.
The kicker? This whole fight allegedly started over possession of a bottle of Champagne. Damn.
Citations: Here are the details of LeSean McCoy's alleged fight with cops (NJ.com), LeSean McCoy involved in fight with off-duty officers (ESPN)