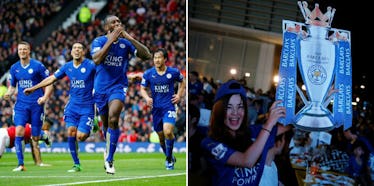 The Greatest Sports Upset Of All Time Just Happened And You Probably Missed It
REUTERS
It's all over. For the first time in its 132-year history, Leicester City Football Club is England's soccer champion.
To put this achievement into perspective, Claudio Ranieri's Foxes were astounding 5,000/1 underdogs to win the English Premier League title this season, which means Leicester City just pulled off the greatest upset in the history of the universe.
We're not just talking sports here. We're talking about anything, ever.
Leicester had the opportunity to win the title Sunday, but the team failed to beat Manchester United FC on the road. Tottenham Hotspur FC's draw with Chelsea FC on Monday means the Premier League title race is officially over.
So, in typical Leicester City fairytale fashion, the Foxes won the title without actually being on a soccer field.
Just a year ago, the Foxes were scrapping to survive in England's top soccer division. Before that, they weren't even in the Premier League picture. Now, they're the best soccer team in the entire country.
If you're still not grasping how great of an upset this really was, consider this: The Cleveland Browns are currently at 200/1 to win the 2016-2017 NFL Super Bowl, which means at the start of this Premier League season, Leicester City was considered 25 times less likely to win the EPL crown than the Browns to win the next Super Bowl.
But, don't worry if you missed the Chelsea-Tottenham game on Monday because Leicester City's manager, Claudio Ranieri, didn't watch either. Instead, he spent the day in Italy, having lunch with his 96-year-old mother.
You couldn't write a more ridiculous script.