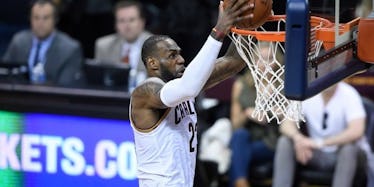 You Need To See This Video Of LeBron James Playing Against Himself
USA TODAY Sports
Earlier this month, LeBron James delivered on a promise and brought the long-suffering city of Cleveland a professional sports championship.
While he wasn't crowned the NBA regular season MVP, King James did take home that distinction for the NBA Finals. Pretty sure Steph Curry would trade, given the opportunity.
Before returning to the Cleveland Cavaliers, the team he made his NBA debut with back in 2003, LeBron won back-to-back NBA championships with the Miami Heat in 2012 and 2013.
James returned to Cleveland for the start of the 2014-2015 season and took his team all the way to the NBA Finals, but they eventually lost in six games to the Golden State Warriors.
Now, following their recent title, it's all good for LeBron James. And when your career finally comes full circle, some people take a very unique approach to paying tribute to your greatness.
One such approach was taken by the creator of the above video, in which LeBron James is doing all the things he does best, only he's doing them against -- wait for it -- himself.
Yeah, this video is pretty weird, but if you watch the whole thing, I think you'll come away from it thinking it's actually pretty awesome.
The production value here is great, so sit back, relax and just enjoy LeBron James going against LeBron James.
Citations: Lebron James Playing Against HIMSELF (YouTube)