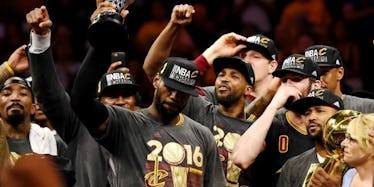 LeBron And The Cavaliers Had An Epic Vegas Celebration, And There Are Videos
USA TODAY Sports
Sunday night, LeBron James and the Cleveland Cavaliers made history.
With their 93-89 Game 7 win over Steph Curry and the Golden State Warriors, the Cavs ended a 52-year championship drought for the city of Cleveland and became the first NBA team to win a championship after trailing three games to one in the NBA Finals.
Following the final buzzer, LeBron and his Cavalier teammates were overcome with emotion. Seemingly, there were more tears than cheers coming from the Cavaliers, which is understandable when you really think about the weight of the moment.
Finally, the impossible had been accomplished.
However, once the victory started to sink in, and everyone began to get a hold of their emotions, one thing became abundantly clear: It was time to celebrate and party like there was no tomorrow.
Judging by the following photos and videos, it looks like LeBron James and the Cleveland Cavaliers did exactly that -- in Vegas, of course.
According to reports, LeBron and the Cavs flew to Vegas right after receiving their championship trophy. Once there, JR Smith got the party started.
The champagne reportedly started flowing at Vegas' XS nightclub.
Can we all agree JR Smith was clearly back in his element Sunday night/Monday morning?
As you can see, JR Smith wasn't the only former Knick to lose his shirt during the epic celebrations.
It looks like LeBron and his Cavs teammates had the championship double fisting down pat.
If this isn't the face you have when you make NBA history, I don't know what is.
Compared to his comrades, it appears LeBron actually played it kind of cool during the Vegas bash.
And to think, before JR, LeBron, Shumpert and the rest of the Cavaliers landed, Vegas looked so calm.
Salute to the 2016 NBA champs!
Citations: The Cavaliers' Celebration Party In Vegas Looked Like It Was Completely Insane (Pics And Videos) (Bro Bible)