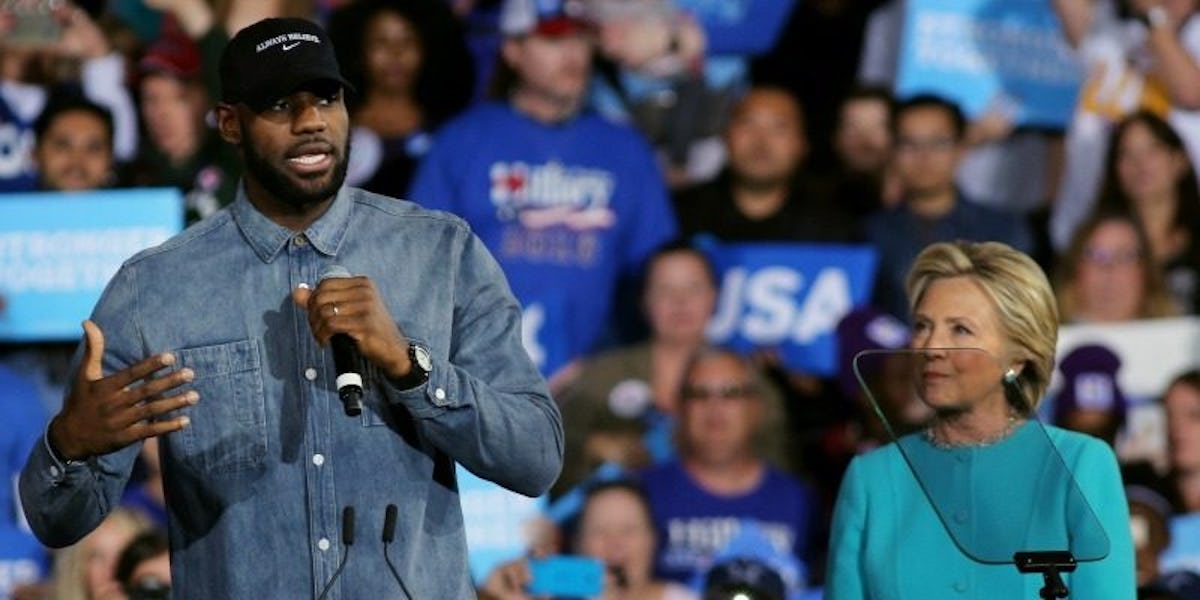 LeBron James Gives Hope In Trump's America: 'Don't Lose A Bit Of Faith!'
REUTERS
Today, LeBron James is just like the rest of us.
I'm still shaking my head in disbelief of the fact Donald Trump will be the 45th president of the United States, but with each passing hour, the reality steadily sinks in.
Many Americans have been spending this Wednesday trying to come to grips with the fact Donald Trump will be the leader of the free world for the next four years, and you can count LeBron James among those who are looking to hope rather than hate after the outcome of this election.
After waking up this morning to discover he's going to be a citizen in Trump's America, the 31-year-old James took to Instagram to post a message of hope and faith.
The Cavs star posted a video with the audio to Kendrick Lamar's "Alright" on a black background, accompanied by a long caption that reminds us the future is still very much in our hands.
James wrote,
As I woke up today looking and searching for answers on what has happened this song hit it right on the head! If we continue the faith(as hard as it may be to do so) we will BE ALRIGHT!! Parents and leaders of our children please let them know they can still change the world for the better! Don't lose a bit of faith! They're our future and we must remain stronger than ever!! Yes we all wanna lace up the boots, put on the hard hats and strike but that's not the answer. Love, genuine LOVE and FAITH will be the only thing that can get us through this. Minorities and Women in all please know that this isn't the end, it's just a very challenging obstacle that we will overcome!! The man above will never put something in our paths that we can handle no matter how difficult it may feel/be! To all the youth out there I PROMISE I'll continue to lead u guys every single day without no hesitation!! Time to educate and even more mold my children into being the greatest model citizens they can become in life! They will continue the legacy beyond life! Lastly, Even if whos now in office doesn't, Know that I LOVE YOU'LL!!!
At the beginning of October, LeBron wrote an emotional essay endorsing Hillary Clinton for president.
Now, even though his candidate lost, it's clear LeBron James isn't dropping the gloves any time soon. Heed LBJ's words and keep fighting for your future.
Citations: LeBron James Responds to Donald Trump Election Victory With Inspiring Instagram Post (Complex), kingjames (Instagram)