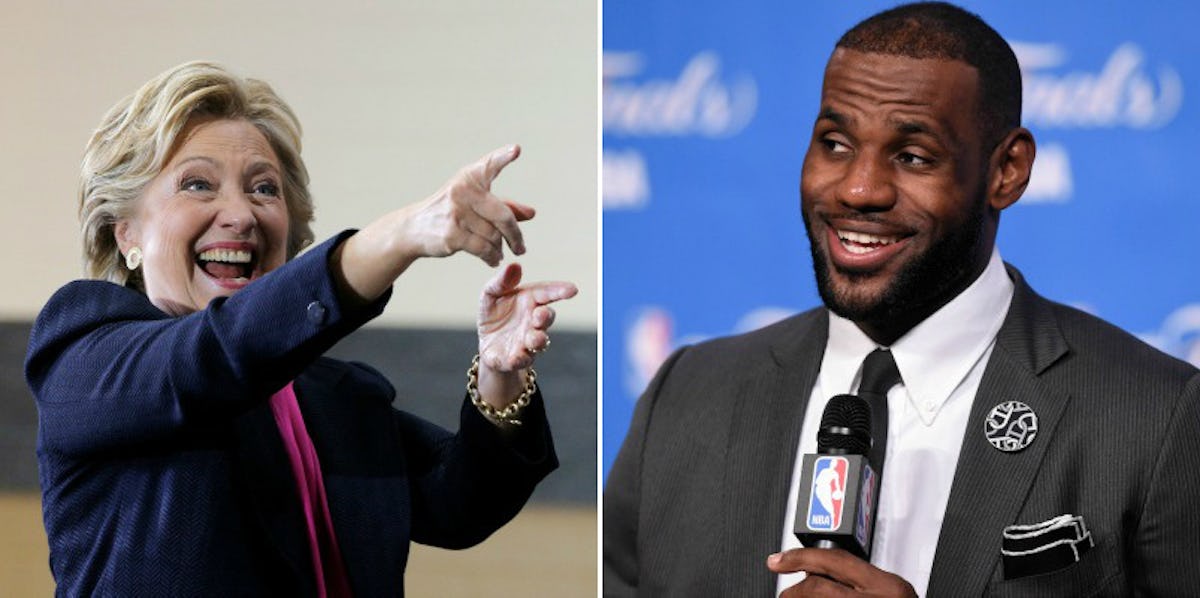 LeBron James Writes Emotional Essay Endorsing Hillary Clinton For President
REUTERS/USA
I was sitting on my couch on Sunday night when I got a Yahoo Sports alert informing me that LeBron James is endorsing democratic nominee Hillary Clinton to be our next president.
LeBron James is the biggest sports star in the United States, as well as a passionate Ohioan. With LeBron's endorsement, Hillary Clinton may have just taken a huge step toward securing the battleground state of Ohio, and picked up a few more swing votes to boot.
It seems to be a fairly obvious choice for LeBron when you consider the fact that Hillary is running against Donald Trump. But why exactly is Cleveland's prodigal son endorsing Hillary Clinton for president?
The 31-year-old Akron, Ohio native penned an emotional essay for Ohio.com explaining his decision. Above all, he cited a better future for children in Ohio and beyond.
In his passionate essay, LeBron James explained that his decision to return to Ohio was motivated by two factors: winning an NBA championship for his hometown and helping to ensure a bright future for kids all over the state.
Earlier this year, LeBron James achieved his goal of bringing a title to Cleveland. But the more difficult task may prove to be his second goal.
LeBron made his reasons for endorsing Hillary Clinton clear by writing,
I am determined to make sure my kids in Akron have what they need to become their best selves. Opportunities, a support system and a safety net for kids in poverty or kids in single-parent households shouldn't be limited to those lucky enough to be blessed with athletic talent. I'm so proud of the more than 1,100 students in my Wheels for Education and Akron I PROMISE Network programs. We're working on year six now, and my kids have big plans for their futures. I also tell all my kids how important it is that they give back to the community. Because if basketball has taught me anything, it's that no one achieves greatness alone. And it takes everyone working together to create real change.
The three-time NBA champion continued,
When I look at this year's presidential race, it's clear which candidate believes the same thing. Only one person running truly understands the struggles of an Akron child born into poverty. And when I think about the kinds of policies and ideas the kids in my foundation need from our government, the choice is clear. That candidate is Hillary Clinton. I support Hillary because she will build on the legacy of my good friend, President Barack Obama. I believe in what President Obama has done for our country, and support her commitment to continuing that legacy. Like my foundation, Hillary has always been a champion for children and their futures. For over 40 years, she's been working to improve public schools, expand access to health care, support children's hospitals and so much more. She wants to make sure kids have access to a good education, no matter what zip code they live in. She'll rebuild schools that are falling apart and put more money into computer science. She'll make sure teachers are paid what they deserve so they can give everything to their students. Policies and ideas that divide us more are not the solution. We must all stand together — no matter where we are from or the color of our skin. And Hillary is running on the message of hope and unity that we need.
LeBron ended his heartfelt essay with a call to action, urging everyone to go out and make their voices heard:
There's still a lot of work to be done in Akron, Northeast Ohio, and all across our great country. We need a president who understands our community and will build on the legacy of President Obama. So let's register to vote, show up to the polls and vote for Hillary Clinton.
LeBron James is clearly with her. Are you?
Elite Daily and 50 other media organizations partnered with Rock The Vote to register 100,000 women to vote. You can register right here (and men can use it too) :
Citations: LeBron James endorsement: For my kids, for Hillary (Ohio.com)