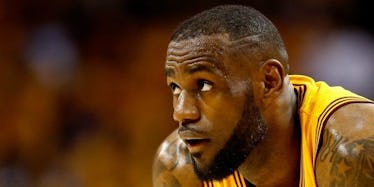 LeBron James Catches Warriors Fan Calling Him A Crybaby Live On TV (Video)
Getty Images
Friday night's Cavs-Warriors NBA Finals rematch looked eerily similar to the six-game series in June where the Golden State Warriors emerged as victors.
Sure, Steph Curry was held to just 19 points, but Draymond Green and the rest of the Warriors supporting cast proved too much for LeBron James and the Cavs.
The Golden State crowd loved what they saw Friday night at Oracle Arena, and one Warriors fan, who was seated in the front row, even had the audacity to mock King James from just a few feet away.
This woman had no fear in calling LeBron a crybaby, until, of course, James looked her way and caught her right in the act. Yeah, that stopped her real quick.
Everyone's a tough guy until they're staring down the barrel.
Citations: LeBron James Catches Warriors Fan Calling Him a Crybaby (YouTube)