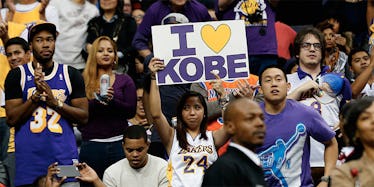 What Saying Goodbye To Kobe Bryant Feels Like For A LA Native
Getty Images
It was a typical lazy Sunday afternoon when I started receiving text messages from friends.
"Did you hear?"
"It finally happened."
Those were some of the messages I read.
Soon enough, I figured out what they meant: Kobe Bryant announced his retirement.
I went online and read his poem, "Dear Basketball," on The Players' Tribune. As I read his words, I got a little choked up, which took me by surprise.
We all knew this was coming, so why was I getting so emotional?
I thought about Kobe Bryant's career. He has indisputably had one of the greatest in NBA history.
He has won championships and scoring titles. He is revered by a generation of NBA players.
The legends before him, like Magic Johnson, Larry Bird and Michael Jordan have given him their praise. For a decent stretch of time, he was the best basketball player in the world.
That, however, didn't explain my emotional reaction to reading his announcement. Athletes come and go all the time.
Although they are rare in the general population, we can see great athletes perform quite frequently on TV in multiple sports.
Then I thought about past memories.
I was a 14-year-old Southern California kid when an 18-year-old Kobe joined the Lakers.
I can remember the sound of Chick Hearn's voice telling the beginning chapter to Kobe's story.
He showed flashes of brilliance in his first year, illuminating the imaginations of Lakers fans everywhere to the future possibilities. And that's right up a teenager's alley: imagining what could be in the future.
It wasn't smooth sailing to the promised land of NBA glory for Kobe and Lakers, however.
Most assuredly, every Lakers fan remembers the four airballs in a 1997 playoff game against the Utah Jazz.
I can recall myself thinking, "Wow, he keeps shooting the ball," as I sat in front of the TV, half amazed and half flabbergasted by a young Kobe's audacity to keep shooting despite not touching the rim.
It was as if Kobe was defiant in his drive to live out his dream of becoming an NBA superstar and champion no matter what adversity he faced.
But it didn't happen that year for Kobe. The Lakers would lose that series and proceed to get swept out of the playoffs for the next two seasons.
The championship and stardom did come eventually. Kobe, with the help of a dominant Shaquille O'Neal, reached that championship plateau three times over.
He became a star and a favorite son of Los Angeles.
He was living out the life that he had set for himself as a young boy, and we were living out our sports fantasies through him.
As much as I remember the heights of those years, I can equally remember the fall.
There was the sexual assault case. There was the very public clash with his superstar teammate. There was playoff disappointment at the hands of the San Antonio Spurs and the Detroit Pistons.
The once clean superstar persona turned into an ad campaign titled, "Love Me or Hate Me."
Times had gotten dark for Kobe, as unwanted drama entered his life and consequently, our lives as fans.
In sports, the opposite of championship is not failure, but irrelevance.
That's what Kobe and Lakers had become in the mid-2000s.
Shaq was run out of town and many of Kobe's championship teammates had gone. He was left on his own to right the ship.
During that time, I had just graduated from college, out in the workplace on my own, feeling directionless with little support around me. I can remember thinking, "this is what Kobe must feel like."
Kobe did continue his ascent toward individual greatness.
On a Sunday night in January of 2006, he scored 81 points against the Toronto Raptors.
This game, however, seemed to encapsulate Kobe's current situation: a great individual performance in a meaningless game. It was a tremendous feat that lacked the proper stage for true appreciation.
After two disappointing playoff exits at the hands of the Phoenix Suns, there we were, in the summer of 2007, as Kobe set LA on fire by asking for a trade.
He had enough, he wanted a breakup.
But LA wasn't ready to let him go, and deep down, Kobe wasn't ready to let go of LA either.
He came to a point in his career where he knew he needed help, just as we all come to realize in life that we need help along the way.
He got his help in February 2008 in the form of Pau Gasol.
I can distinctly remember seeing the trade headline on the ESPN ticker that morning at the gym. Kobe and the Lakers were back, and as fans, we were back too.
After a heartbreaking loss in the NBA Finals to the Boston Celtics in 2008, the Lakers returned to glory in 2009 and in 2010.
Kobe and Pau led the Lakers franchise to perhaps the its sweetest championship moment ever: a game 7 NBA Finals victory over their most bitter rival, the Celtics.
It's been somewhat of a swan song for Kobe since 2011. The NBA has given way to new superstars and the Lakers are no longer a championship-caliber team.
If anything, the theme of these past few years has been, let's appreciate the greatness of Kobe Bryant.
An Achilles and knee injury nearly robbed him of a proper sendoff, but the time has finally come for Kobe to say goodbye.
And this is why reading that announcement got me so emotional; for a Southern California Lakers fan born in the early 80s, Kobe Bryant represents my youth.
I saw my life through the arc of Kobe's career: the dream, the accomplishment, the fall, the loyalty and the return.
He spent all 20 years in the NBA with my home team.
He is beloved by my city and generation the way New Yorkers born in the early 80s love Derek Jeter, the way Miami natives born in late 80s love Dwyane Wade and the way Bay Area natives born in the late 90s will grow to love Stephen Curry.
For all of Southern California, Kobe Bryant will always be our guy, for our city.
As he says goodbye to basketball, we say goodbye to the past.
Fortunately, he'll never have to say goodbye to us.