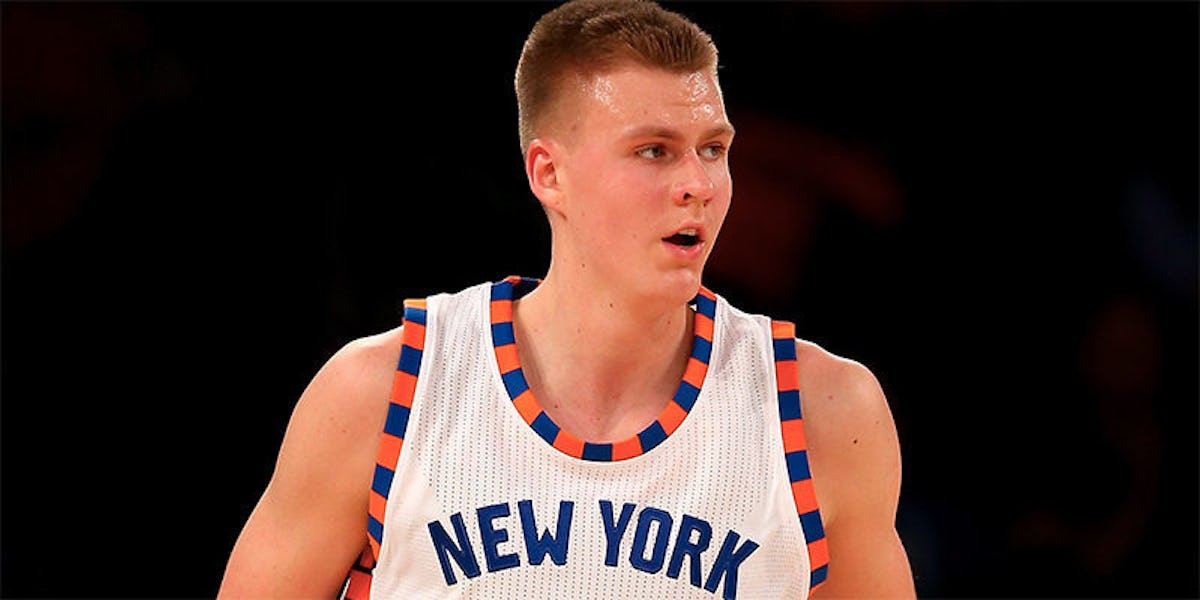 Knicks Rookie Still Lives With His Parents To Stay 'Out Of Trouble'
Getty Images
If you thought Kristaps Porzingis would become another one of Manhattan's super-rich European kids who spends his riches on luxurious nights out on the town, think again.
In fact, the Knicks rookie doesn't live in the big city at all, nor does he even drink.
Still only 20 years old, Porzingis lives with his parents and two brothers in White Plains, New York -- a fact that helps keep him "out of trouble," he says.
The Latvian center reportedly explained,
It's always good to have support around, as young as I am and New York with a lot of attention. My family's around to make sure I'm doing the right thing and staying out of trouble and focused on basketball. For me, it's great to have family around.
As the New York Post rightly mentions, the image of Porzingis as a homebody stands in stark contrast to the unfortunate fates that befell two of the rookie's Knicks teammates within the past month.
First, forward Derrick Williams was reportedly robbed of hundred of thousands of dollars worth of jewelry by two women who came home with him from a nightclub. Then, last week, sophomore guard Cleanthony Early was shot in the knee outside of another nightclub.
Prayers for my brother @Clearly_BallLyf pic.twitter.com/9kOo4PBcEy — Kristaps Porzingis (@kporzee) December 30, 2015
Porzingis reportedly said,
It's sad that things like that happen. It shows how careful you have to be in those situations.
With life at home seemingly stable, Porzingis can focus on managing the ups and downs of his rookie season, which sees him averaging 13 points, eight rebounds and two blocks per game so far this season.
And it's safe to say, if his progress gets derailed, it isn't likely to be because of any off-court trouble.
Citations: Knicks' Porzingis lives with mom and dad to stay out of trouble (New York Post)