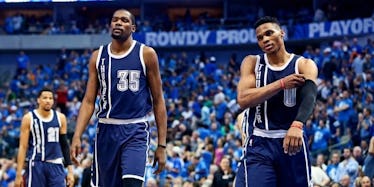 Kevin Durant And Russell Westbrook Are The NBA Playoff Assh*les We Need
USA TODAY Sports
The Dallas Mavericks knew they were severely outmatched before they even took the court in their opening round playoff series against the Oklahoma City Thunder. So, it should come as little shock to anyone OKC closed out Dallas in just five games, finishing the series on Monday night at Chesapeake Energy Arena.
Despite almost getting swept, though, Dallas put up a good fight.
Not so much on the basketball court, but during the pregame routines and postgame press conferences, they were definitely the winners... until last night.
During this series, the Mavericks' Charlie Villanueva tried to rattle Russell Westbrook and Kevin Durant numerous times, but all he did was wake two sleeping giants.
KD, Westbrook and the Thunder have come agonizingly close to lifting an NBA title in the past, but they have always come up short. Some critics have come to the conclusion Durant and Westbrook simply cannot win a title together. They have the talent but lack that something extra to get them over the line. They lack that hunger.
Thanks to the shenanigans of Villanueva and other members of the Mavericks organization, OKC now has a hunger, an edge and an air of overconfidence they never had before.
Basically, in the span of 10 days, KD and Westbrook have become the assh*les they need to be if they're actually going to make a run at winning an NBA championship.
Last night, Durant and Westbrook were the only ones talking, and they had plenty to say.
First, Durant addressed Mavs owner Mark Cuban's comments about Westbrook not being a superstar.
Then, Westbrook and Durant verbally destroyed Charlie Villanueva, who did his best to be a thorn in OKC's side this series.
You can clearly hear Durant say,
He's an idiot, too. Might not even be in the league [next year].
Ouch.
But all's fair in love and basketball. Charlie Villanueva tried to intimidate Westbrook by creeping up behind him, breaking up his pregame dance and talking sh*t in general.
Speaking on that pregame routine he tried to disrupt, Villanueva reportedly said,
Now listen, I'm all for pregame hype and rituals. I do them myself all the time. BUT bro, when your pregame routine starts off with '5-6-7-8' that's just too much. I wasn't feeling all that right in front of me. Take that to the nightclub or to your side of the court. All due respect, but naaah.
Not only did Villanueva's and the Mavs' tactics not work, they seemingly helped a normally already emotional Westbrook find the focus he needed in order to take his game to the next level. Because, it's one thing to be an assh*le in the postgame press conference after you've won the series, it's quite another to be one on the court in order to get there.
For this best-of-seven series, Westbrook averaged 26 points, 11.2 assists and 7.2 rebounds per game, blowing his previous career playoff averages out of the water.
In Games 3, 4 and 5 of this series, Westbrook averaged 29 points, 13 assists and 5.7 rebounds per game.
Where they do that at?
Hell, Russell Westbrook was so heated and riled up this series, he even ethered a fan sitting courtside in Dallas in Game 4.
KD is more than pulling his weight, too. For the series, the 2014 NBA MVP averaged 26 points, 6.4 rebounds and 3.2 assists per game.
Last night, Kevin Durant and Russell Westbrook were assh*les, and it was awesome. This often-maligned superstar tandem are playing like champions, and whether or not they're able to keep it up in the next round -- they begin their series with the San Antonio Spurs on Saturday -- we now know the level of basketball they're capable of playing.
Charlie Villanueva, Mark Cuban and the Dallas Mavericks didn't create monsters; they allowed two of the premier NBA players of this generation to unlock the assh*les inside of them and take their individual games, as well as their team, to the next level.
Citations: Mark Cuban: Kevin Durant is the 'one superstar' on Thunder (ESPN)