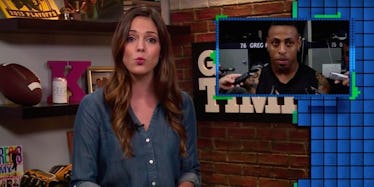 Katie Nolan Stands Up For Women In Rant Against The NFL And Greg Hardy (Video)
If you didn't know, Greg Hardy is an NFL player who was charged with domestic abuse.
He was found guilty of assaulting and threatening his girlfriend and put on 18-month probation after accusations that included him throwing her on a bunch of assault rifles.
He plays for the Dallas Cowboys now and will compete in his first game for the team, after serving a four-game suspension, this week against the New England Patriots.
Greg Hardy is officially back, and he announced his return with a press conference that can only be received as a slap in the face to women.
But Fox Sports host Katie Nolan, determined to hit back, criticized Hardy AND the NFL. Here's her brilliant take: