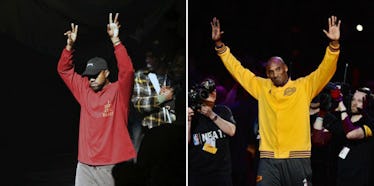 Kanye West Is Selling New Pablo-Themed Shirts To Honor Kobe Bryant
REUTERS/Andrew Kelly-USA TODAY Sports/Robert Hanashiro
Since you can buy a $15,000 bag of air from Kobe Bryant's last game at Los Angeles' Staples Center, why wouldn't you want to give Kanye West $65 for this Pablo-themed Kobe Bryant shirt?
According to shop.kanyewest.com, you can own this shirt to commemorate Kobe's final NBA game on April 13, 2016.
Whether you're a fan of Kobe and the Lakers or just a fan of Kanye, you definitely want this shirt so you can feel how Kanye West felt watching Kobe Bryant play professional basketball for the last time, right?
That may sound confusing, but just buy the shirt and know you're buying a piece of history... Actually, it looks like you'll have to wait for the restock because it appears these puppies are all sold out at the moment.
Citations: Kanye West is selling 'I Feel Like Kobe' shirts (SB Nation)