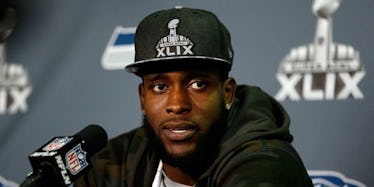 Seahawks' Chancellor Was Nearly Arrested For Trying To Buy A Gym
Getty Images
Seattle Seahawks safety Kam Chancellor had a wild Wednesday after the cops were called on him by two gym employees who claimed he tried to break into the Redmond Athletic Club.
Apparently, Chancellor peered through the window and knocked on the door of the closed gym to get some information about the facility. Maybe, you know, because he wanted to join the gym or something.
According to the Redmond Police Department, the two women inside the Redmond Athletic Club got nervous and called the police.
To Chancellor's credit, he appeared to be a good sport about the whole thing.
The funniest thing just happened too me in Redmond. I went to go get info on a gym that was closed and 2 ladies called the cops on me — Kameron (@Kam_Chancellor) March 3, 2016
Also to his credit, he allegedly took a picture of the two women.
They told the cops I was trying to rob the place because I was looking into the glass asking for help. I took a picture of the two employees — Kameron (@Kam_Chancellor) March 3, 2016
Thankfully, cops arrived on the scene and recognized the NFL star.
Good thing the cops know I'm a good guy and stealing isn't in my blood. I work for everything I get — Kameron (@Kam_Chancellor) March 3, 2016
It should also be pointed out Kam showed the ultimate restraint by not posting the picture he took of the two women.
I guess I won't put a gym in Redmond then. I'm not qualified. I want to post her face so bad on the phone looking disgusted. — Kameron (@Kam_Chancellor) March 3, 2016
Unfortunately, racial profiling is very much prevalent in our society. Shout out to Kam Chancellor for handling this situation with as much class as possible.
Citations: Gym workers call 911, claim Seahawks star Chancellor trying to break in (KOMO)