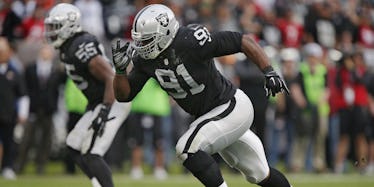 Here's The Insane Way 32-Year-Old Justin Tuck Stays In Peak NFL Condition (Video)
Getty Images
Oakland Raiders defensive end Justin Tuck is a two-time Pro Bowler and Super Bowl champion.
He's the only player in NFL history to have multiple sacks in multiple Super Bowls.
And he's also been bruised and battered by playing in the NFL for 11 years and counting.
The 32-year-old Tuck is no spring chicken, but seemingly every Sunday, he shows up and leaves it all out on the field for 60 minutes.
So, how does he do it?
The above video gives an in-depth look into the ludicrous training regimen Tuck goes through in order to keep his body in peak physical condition.
My muscles are burning just watching these workouts, let alone even thinking about trying them.
Now, there's obviously a lot more that goes into making Justin Tuck one of the greatest pass rushers in the modern game, which is why this workout highlight reel should give you a newfound appreciation for what professional football players go through to excel on the biggest stage.
Citations: Justin Tuck Conditioning Training Drills for Football | Muscle Madness (YouTube)