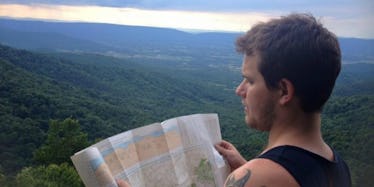 Meet The Guy Who Took That Vicious Stiff-Arm From A Washington DC Cop
Facebook
By now, you probably saw the video of a Washington DC police officer stiff-arming a guy during a snow football game that took place during Winter Storm Jonas.
But in case you haven't, or just want to relive the moment, here's what happened when the spirit of competition was taken just a little too far.
@DCPoliceDept officers join a pick up football game in #Snowzilla2016. #blizzard2016 @capitalweather pic.twitter.com/svRD41I1ua — Katie Tilley (@kbtilley) January 23, 2016
Once the above video started making the rounds, it instantly became a news story. The Washington Post reported a group of DC cops took a break from blizzard duties to join in a game of football in the Columbia Heights neighborhood. The Post broke down the play, calling the unlucky stiff-arm victim a "particularly flat-footed defender."
That "flat-footed defender" is James Justice Haynes, and he spoke to Elite Daily via email about getting rocked by one of DC's finest.
First, Haynes shared how he ended up playing football, despite Winter Storm Jonas bearing down on the DC area.
He said,
As I was walking home with friends from Wonderland, a local bar, we saw some people tossing a football around in the middle of 11th street. We joined in and eventually there was a full on game of tackle happening despite heavy snow and wind. Although it got competitive at times, everyone was having a blast and it was very lighthearted.
According to Haynes, DC cops were called to the scene because a nearby resident made a noise complaint. Naturally, he thought the game would be broken up.
He told Elite Daily,
When the DC cops showed up, I assumed the game would be put to an abrupt stop. To the contrary, they asked to play against us which took all of us completely by surprise.
Haynes recalled a crowd gathering to watch the cops and civilians engage in some good old-fashioned snow football, but he said the rules of the game, as far as tackling was concerned, weren't explicitly made clear.
He explained,
It wasn't established whether we were playing two hand touch or tackle (at least I wasn't aware that the rules had been established) but I assumed it was the former against the cops, who still had all their equipment on. Illuminated by the lights of the police cars we began playing.
It all seemed innocent enough, but Haynes' world was literally about to be turned upside down. Following an incomplete pass to start the game, the 23-year-old recalls the stiff-arm seen 'round the world.
Haynes shared,
The second play, the quarterback, my friend Chris scrambled away from a defender and [threw] a cross street pass to a cop. He caught the ball around the line of scrimmage and picked up a head of steam. That's when I made the unfortunate decision to come up to the secondary to try and defend him. It all happened very fast but I distinctly remember hesitating as he barreled towards me. My whole life has conditioned me not to touch the police and he had a full head of steam so I stopped my momentum thinking I would just two hand touch him down. Obviously, it was a big mistake to hesitate. He took [me] by complete surprise and hit me right below the neck with a vicious stiff arm which sent me sprawling as he blew right past me.
Even though he thought the game was two-hand touch, Haynes didn't make any excuses for the play, saying,
Even if it was two hand touch... I didn't get a finger on him. I could make excuses like I was wearing dress shoes or that I had [more] than a few at the bar, but there's no way around the fact that he completely destroyed me. Everyone went wild, for good reason.
And if you thought this cop was just being an assh*le by taking out some unsuspecting kid, Haynes was also quick to dispel that notion.
He told Elite Daily,
The cop came up to me after to make sure I was OK and was very nice considering he could have talked as much trash as he wanted given what had just happened. He, along with the rest of the police, were super cool and friendly throughout the entire ordeal. The game didn't last much longer as the cops were called for an emergency. I knew it was a devastating stiff arm at the time but only realized the severity once I saw the video on the Internet the next day. Overall, despite getting completely and utterly owned, it was an enlightening and unique experience to see another side of police that doesn't get covered often; that they are humans who, just like us, like to have fun and play football in the snow.
That's really what happened in Washington DC on Saturday night. On the bright side, there should be plenty of ice for Haynes to treat his bruises.
Citations: D.C. cop joins snow football game, unleashes hellacious stiff-arm (The Washington Post)