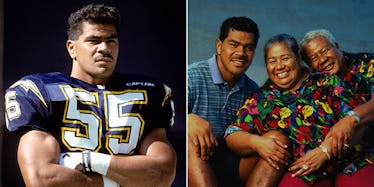 Junior Seau Was The Definition Of A Great Player And An Even Better Man
Facebook
On Saturday, Junior Seau will be enshrined into one of the most elite fraternities in all of sports: the Pro Football Hall of Fame.
He joins seven other men to receive the highest honor in pro football, but of course Junior's presentation will be different from others.
In 2012 Seau, one of the most decorated players of all time, who spent 20 amazing years in the NFL, took his own life. Many people are still asking themselves "Why?".
But the 12-time Pro Bowler's legacy will always defined by the type of man he was off the field, more so than accomplishments he had on it, or even how his life ended.
With a storybook career beginning in San Diego, Seau became an All-American at USC and was drafted by his hometown Chargers in 1990.
He'd go on to play in Miami over a decade later and come out of retirement to sign with Patriots during their remarkable undefeated regular season and made his impact felt.
But during the 90s, there wasn't a more dominant, versatile defensive player in the NFL. Before there was a Ray Lewis, a Brian Urlacher or a JJ Watt, there was a Junior Seau.
All while being a superstar on the field, Seau was one of the most humble and hardest working men in practice and in his community.
During the 2001 NFL season, a rookie running back by the name of LaDainian Tomlinson had the privilege of working on the same field as Junior Seau and explained how his leadership affected him at the early stages of his career with San Diego.
He said,
I sat there and watched somebody do it the right way -- how to work and how to be a professional -- and yet, when you step away from the field, how to act in the community. Junior was one of a kind. He made everybody feel like they were his best friend.
Those who knew Junior best always say he was the type of guy to light up a room and inspire you to do the same.
He was selfless and played the game for the love, not for the fame or money, like most other players seem to do.
He was also able to do that at an extremely high level finishing his career with 1,849 tackles, 56.5 sacks and 18 interceptions.
Even the late Al Davis, owner of Junior's rival team in San Diego, the Raiders, had nothing but kind words to say about the prideful Samoan.
I learned that he was such a soft, generous, life-loving person. You talk about alter ego, Clark Kent. I mean, he's in his flip-flops and shorts, just hanging out. It was a great thing.
Throughout his 20-year career, Junior affected literally everyone he came in contact with from teammates to opponents, owners and coaches and especially to the children and fans.
The stories of his kindness are endless, but that's something his mother instilled to him and his siblings at a young age asking them to only do one thing: "Go out and make happy."
After the unfortunate end to his life, teammate Marcellus Wiley was almost speechless over losing his close friend, but shared just what type of man Seau was both on and off the field.
During an emotional interview with ESPN, Wiley said,
He was a man, still, but he was playing the game like he was just a little child, like he was a boy out there. That spirit he had, it was infectious... Junior always kept that smile, always gregarious, always engaging, always calling everyone 'buddee.' He was the best teammate I've ever had with that level of ability. Never do you meet a superstar who is making sure that he's trying to help the entire team before himself.
Junior Seau defined what it means to be a great man off the field above all else, so his death was a huge shock to everyone in the NFL.
However, he also had the ability to cover up all of his problems for the simple sake of never looking weak around those he loved.
Wiley explained,
Junior would never let you see him sweat, never let you see his pain and that was the toughest thing about it because I thought was just for football... Junior did it his way, he did it the way where if he was hurting, you knew it but you didn't see it.
He took his life by shooting himself in the chest, and many believe he wanted to preserve his brain for studying as it was later discovered he had CTE as a result from all the years sustaining blows to the head.
The scariest part is that this was something Junior was keeping to himself up until the very end of his life.
Nobody could've predicted one of the nicest dudes in the league was going through such hard times, and not even his closest friends and family could've helped.
The impact he left with so many people far and wide will leave a much stronger effect, and his death will only help with more awareness for other players dealing with CTE.
The Junior Seau we'll remember is the easy-going guy, so laid back that he showed up to "The Tonight Show" in shorts and flip-flops.
Junior Seau was a warrior on the field and a gentleman off it.
His community service throughout San Diego lives on through his family, and during the presentation, his daughter Sydney honor him in front of his fellow NFL Hall of Famers.
During his final season in the pros as a member of the New England Patriots, Seau preached how thankful he is every time he steps on to the field and how "you can't coach courage."
He approached his 17th season like his first and no one had his energy saying,
If I gotta be a plumber today, I'll be a plumber. Whatever it may be. I'm just here to help.
Junior Seau was a man who played the game he loved with passion and lived his life up until the very end to make others happy.
His legacy will be immortalized in the Pro Football Hall of Fame this weekend, as it should, and his spirit lives on.