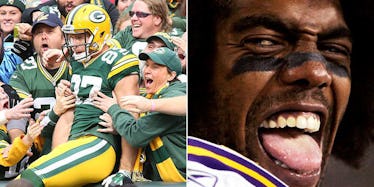 Win-Win: Moving To Green Bay Would Be Great For Randy Moss And The Packers
Facebook
The second-most important part of the Packers offense (next to Aaron Rodgers, of course) is done for the season after tearing his ACL in a pre-season game.
Jordy Nelson has been Rodgers' go-to guy in Green Bay, and there's no denying that offense will just not be the same without him.
"What does this mean for the Packers?" you might ask.
Well, Randall Cobb, who had his breakout season last year, still has a pretty high ceiling as long as Rodgers is throwing him the ball.
Eddie Lacy will see some more carries this season as well, eclipsing the 1,000-yard mark in both of his first two seasons.
However, early last season, numbers showed that Rodgers targeted Nelson over 36 percent of the time on his throws, which was a higher percentage of passes received than Calvin Johnson's.
Nelson's numbers have been stellar the past few seasons, with multiple 1,000-yard seasons and a couple of Pro Bowl appearances.
The Packers need everyone to stay healthy in order to remain a force in the NFC.
Teams like the Giants and Panthers are liable to sneak up on the usually-dominant teams this season, and the Seahawks and 49ers are still out for blood.
That being said, since (for the moment) everyone else is healthy, this Packers team is still pretty scary with Aar0n Rodgers at the helm.
There's still time to bring in another receiver to take Nelson's place for the season, and the Packers have to decide who they want.
Rodgers is a good enough quarterback to make that receiver better either way, but picking up another agile receiver who can explode for big yards will keep this Packers team in contention for a deep playoff run.
Just who might that receiver be, though? Reggie Wayne just signed with the Patriots after his long career with the Colts, so it can't be him.
There is one other 38-year-old receiver who may come out of retirement to help this team out. Randy Moss could be the guy.
Yes, he's 38 and not the Randy Moss he once was, but we don't know how good he can actually be with Rodgers throwing to him until we actually see him out on the field in a Packers uniform.
Come on. You can't tell me that doesn't get you just a little bit excited.
It's tough to be consistent, let alone healthy, at a skills position late in your 30s.
Quarterbacks can get away with it a little more than receivers and running backs can, simply because they're doing a lot less running and (hopefully) taking a lot fewer hits.
But Moss has an impressive track record in his long NFL tenure, and can certainly bolster his Hall of Fame campaign by adding more stats to his résumé.
If there's any reason for Moss to come back, at the very least, it's for him to add some numbers to his individual stats. A ring would be nice, too, though.
Also due to Nelson's injury, another dispute regarding the NFL, as a whole, has sprouted.
As if the NFL hasn't been facing enough criticism in the past couple of years for their judicial decisions between Tom Brady and Ray Rice, players, as well as fans, are now agreeing that the NFL pre-season should be shortened.
The last thing we want to see as NFL fans is a star player getting injured in a game that's technically "meaningless," according to Aaron Rodgers.
You could argue that Nelson should have sat out Sunday night, and that some injuries are out of the players' control, but pre-season ball seems to be such a tease sometimes.
We're not recording the stats or wins, so a shorter pre-season is something that should be taken into consideration.
Despite Nelson's injury, the Packers look to press on as the favorites of the NFC North, and still hope to have success this year.