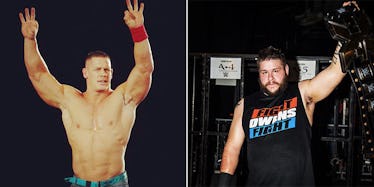 John Cena Passed The Torch To Kevin Owens As The WWE's Next Big Star
Instagram
Last night at Elimination Chamber, pro wrestling fans witnessed arguably the greatest debut in WWE history.
Kevin Owens isn't exactly an unknown prospect -- he's been wrestling for over a decade in smaller promotions and in the WWE's developmental league, NXT -- but taking down John Cena in his first main roster match means something.
Cena's reign as 15-time WWE World Heavyweight Champion and current title as United States Champion means he's one of the best to ever do it.
Owens walking in and taking care of business is a clear sign his future with the WWE is going to be a bright one.
Kevin Owens shocked the world yesterday when he defeated John Cena in his WWE debut.
He had a message for Cena after the match...
...And put him to sleep with one of these earlier in the night.
John Cena's loss and passing of the torch reminds us a lot of another moment in WWE history...
...When he debuted against Kurt Angle in 2002 (though he didn't win).
One thing was made certain by the end of the night: Kevin Owens isn't your average superstar.
And I'm not just talking about the fact that he has a dad bod...
Not many people understand the journey he took to get to this victory.
Kevin Owens wrestled all over independent promotions as Kevin Steen, winning everywhere he went.
He's deceptively athletic, able to pull off high-flying moves that look unbelievable.
And has the ruthlessness to inflict real pain.
He's so ruthless, in fact, that he doesn't care what happens to his own body.
He can deal the pain and take the pain, too.
That doesn't mean Kevin Owens doesn't have a soft side.
Even his own son was shocked to find out he was going to fight John Cena.
His daughter is just happy to play with his championship belt.
Like most great men, he does everything for his wife and two kids.
Before his big debut, Owens was wrestling for WWE's developmental brand, NXT, and was a fan favorite.
Soon, he caught the attention and respect of legends like Triple H, who made the push to get him in the ring.
The Champ Is Here! @FightOwensFight#WWEChamberpic.twitter.com/7BHAwJX28l — Triple H (@TripleH) June 1, 2015
When it became official, even more legends began to pour in support.
@FightSteenFight Welcome to the club homeboy. Very happy for you and your family. #MoveTheCrowd #HaveFun #WellPlacedSunsetFlips — Dwayne Johnson (@TheRock) August 12, 2014
Two C words for @FightSteenFight... Congratulations and Cardio. Good luck, kid. #NXT#WWE@WWE — Steve Austin (@steveaustinBSR) August 12, 2014
Hell, even Hulk Hogan gave Kevin Owens the pass.
Congrats to Owenmania the new champ made me believe again brother!! WWE your in trouble HH — Hulk Hogan (@HulkHogan) February 12, 2015
At 31 years old, his career is just getting started...
...And what better way to start it than by beating this guy.