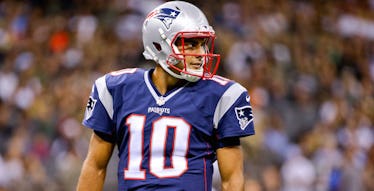 It's Official: Jimmy Garoppolo Is The Hottest Quaterback In The Game
REUTERS
Real talk: Patriots fans upset about Tom Brady's reinstated four-game Deflategate suspension need to take one look at backup quarterback Jimmy Garoppolo and count their blessings.
In fact, I wish we had more time with Jimmy G. His four games haven't even started yet, and I miss him already.
To be fair, Garoppolo, 24, hasn't had much of a chance to prove himself on the field yet, but our hopes are high. He's a family man and a total babe, and personally I'll take him over Brady any day of the week.
That's right, I said it. Before you drive down to NYC and egg my apartment, New Englanders, hear me out.
Meet Jimmy Garoppolo.
Not only is he smoking hot...
But he loves his mom.
He's a NICE ITALIAN BOY.
Happy Saint Joseph's Day — Jimmy Garoppolo (@JimmyG_10) March 19, 2016
And he's also one of four adorable brothers.
He knows how to cradle a baby...
And a football...
And he even makes Tom Brady smile.
I believe in you, Jimmy.
Call me, OK?