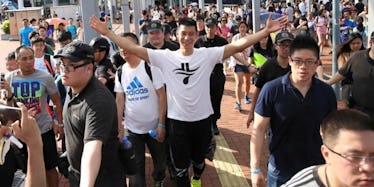 Yep, Jeremy Lin Is Now Sporting An Old-School Mushroom Haircut (Photo)
Since Linsanity hit New York City a few years ago, it's been an up-and-down ride for Jeremy Lin's NBA career.
Following his amazing run with the Knicks, Lin spent two seasons in Houston alongside Dwight Howard. Last season, he struggled to get it going with a Kobe Bryant-less Lakers team.
This season, Lin is ready to start with the Charlotte Hornets in yet another chapter in his NBA story. And it appears the Harvard grad is looking to jumpstart his career by going with a brand new haircut, kind of.
J Lin will be starting the 2015-2016 season with a classic, old-school mushroom cut.
Just look at that bad boy in all its glory. Think his mom is bringing Pizza Rolls to practice?