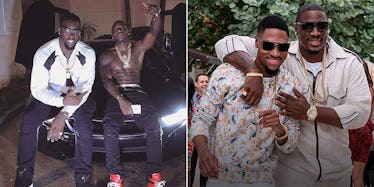 JPP's Situation With The Giants Feels Like An Episode Of HBO's 'Ballers'
Facebook
Sometimes, everything isn't everything.
On last week's episode of HBO's hit show "Ballers," London Brown's character, Reggie, repeatedly utters "everything is everything," in the cocky, obnoxious manner that viewers have become so accustomed to over the last month and a half.
Reggie is, of course, the childhood friend and most trusted advisor of Vernon Littlefield, played by former UCLA defensive lineman Donovan Carter, Dallas' superstar defensive tackle.
Vernon's contract is expiring, and he is looking a for a mighty big payday this time around.
In part, because he's one of the best defensive players in the league, but not least because he's also having $5,000 brunches with 30 family members at the Biltmore.
In addition to sipping on Dom Perignon and dining on lobster, Vernon also likes to occasionally rage late night. I mean, which NFL superstar doesn't?
In Episode 3, Vernon, along with Reggie, parties it up with babes, booze and blow at a yacht party sponsored by The Rock's Spencer Strasmore.
In Episode 5, we learn one of the ladies who partied with Vern has one or two scandalous photos that might be of interest to a TMZ-like outlet; that is unless Vernon buys the photos first.
And, considering Vern is in the midst of trying to negotiate one of the biggest contracts in the league with Dallas, well, those pictures could do some major damage if they ever come to light.
You know who else is one the best defensive players in the NFL? Jason Pierre-Paul.
Last March, JPP was designated by the New York Giants as a franchise player for just shy of $15 million.
"If & when @UDWJPP signs that tender, he'll be the only player... to play under one" http://t.co/HLC3sVFGlF pic.twitter.com/Uf15WxE8Mv — NFL Network (@nflnetwork) July 16, 2015
And heading into this offseason, the team was set to offer the two-time Pro Bowler a long-term deal worth $60 million.
Then, on July 4, JPP had a fireworks-related accident that resulted in an amputated middle finger and a broken thumb.
The $60 million contract offer was pulled, though that has more to do with the fact that JPP was reportedly going to reject the deal in favor of something in the neighborhood of $14.2 million a year with $41 million guaranteed, and the Giants haven't been able to make direct contact with Pierre-Paul since.
This week, training camp for the 2015 season started, but JPP is yet to make an appearance.
The Giants have spoken with several members of the defensive end's inner circle, but can't get a face-to-face with arguably their greatest defensive asset.
Mara says Jerry Reese has been primarily communicating with "JPP's Camp" & reiterated that he's "not getting the best advice" #NYGiants #NYG — Giants 360 (@Giants360) July 30, 2015
Which means the Giants' front office has no clue just how bad shit is.
#Giants have yet to see Jason Pierre-Paul or examine extent of his injury. https://t.co/DKkb4grdD5 — Rachel Nichols (@Rachel__Nichols) July 30, 2015
The best Giants co-owner John Mara can get is a text with an emoji.
JPP has texted Mara that he'll be fine. It's a bump in road. Even put smiley face in text #Giants — Jordan Raanan (@JordanRaanan) July 30, 2015
But JPP better start listening to more Spencer Strasmores and fewer Reggies.
Mara says Giants plan now is to move forward without JPP. — Tom Rock (@TomRock_Newsday) July 30, 2015
It's believed JPP has nine fingers at the moment, but only he and his trusted advisors know the truth.
Mara on JPP: "We don't know the extent of the damage. That's the problem. I don't know how many fingers he has." — Dan Graziano (@DanGrazianoESPN) July 30, 2015
Still, though, Mara just wants his best defensive player to come to training camp.
John Mara: "Disappointed (JPP) is not here, think this would be best place for him." pic.twitter.com/dXYGZqWcDa — Dan Graziano (@DanGrazianoESPN) July 30, 2015
And regardless of how many digits JPP has at the moment, Mara just wants to put this whole thing to bed.
John Mara, asked what his message would be to Pierre-Paul, says, "Come home. We miss you." — Dan Graziano (@DanGrazianoESPN) July 30, 2015
If Vernon Littlefield is going to get past this yacht party fiasco, then he needs to cut out Reggie and let Spencer Strasmore have sole control over his affairs, financial and personal.
Jason Pierre-Paul should probably start his road to redemption by hopping on the phone with John Mara and letting him know that he at least intends to play football at some point.
Signing the franchise tender and working on a long-term deal that fits both JPP and the Giants is something that has to be addressed, but it would probably be best to get everyone in the same room first.
Another quote from Episode 6 of "Ballers" comes from embattled wide receiver Ricky Jerret.
The Dolphins' newest offensive acquisition says,
Everything is transition.
For JPP's and Vern's sake, as well as fans of the Giants and "Ballers," lets hope both these defensive weapons get it together before their careers get sacked.