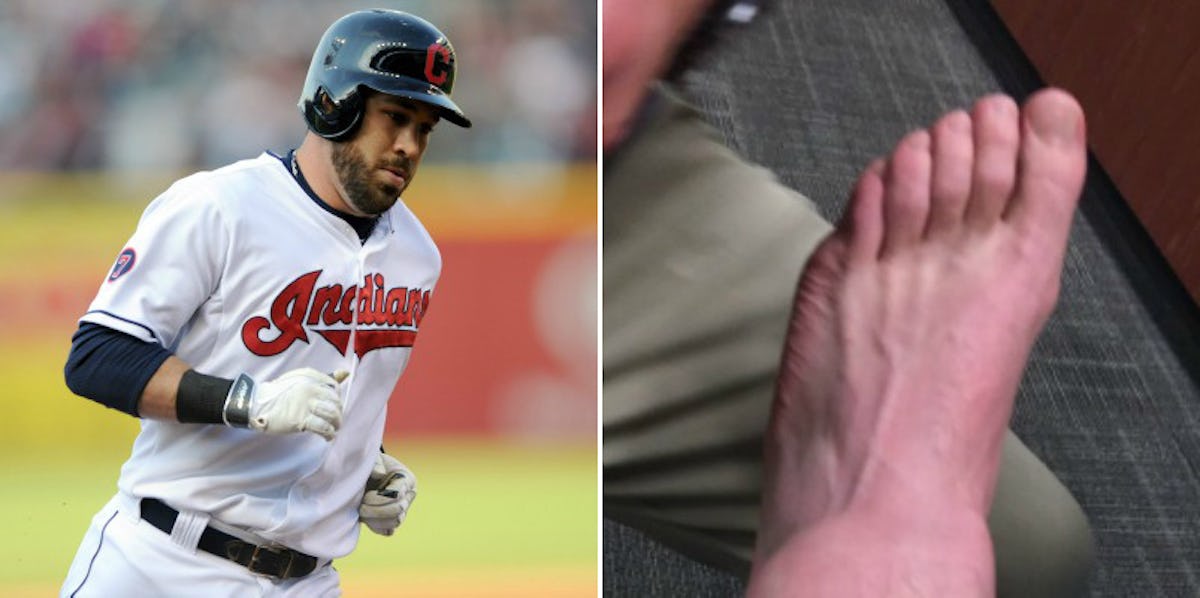 MLB Reporter Tweets Gruesome Pics Of World Series Player's Messed Up Ankle
USA TODAY Sports/Twitter
The Chicago Cubs and Cleveland Indians are just hours away from the start of Game 1 of the World Series, but there's already cause for concern for Cleveland Indians fans.
According to reports, Indians second baseman Jason Kipnis hurt his ankle celebrating his team's achievement of reaching the World Series.
In the days leading up to Tuesday's Game 1, though, Kipnis and the Indians have reportedly maintained the 29-year-old will be good to go by the time the first pitch is thrown.
In the build-up to the World Series, the MLB Network's Heidi Watney has been covering the Cleveland Indians from the field to the clubhouse.
On Tuesday afternoon, Watney tweeted a few gruesome pics of Jason Kipnis' sprained ankle, and I'm really not sure how this dude is going to play in Game 1 of the World Series.
In addition to the news about the second baseman's ankle, it's important to point out the timestamp on Watney's tweet says 1:52 pm, but Deadspin published an article with an earlier tweet by Watney, in which she also shared images of Kipnis' messed up ankle.
So, what happened?
Why did Heidi Watney feel compelled to delete her initial tweet about Jason Kipnis' ankle? Did someone from the Cleveland Indians' organization speak to her and ask her to remove the tweet?
Did Jason Kipnis get wind of Watney's tweet and ask her to backtrack?
And, why did Watney all of the sudden feel comfortable enough to post a new tweet with the same pictures? Did someone realize it might be a bigger deal/story if she deleted the tweet about Kipnis and said nothing?
We may never get the answers to these questions, but we do know Jason Kipnis' ankle looks like a water balloon at the moment.
I'm sure he'll receive some sort of treatment before Game 1 of the World Series starts, but if Kipnis struggles at all, you'll probably know why.
Citations: Dude, Jason Kipnis, Are You Sure You Can Play On Your Sprained Ankle (Deadspin)