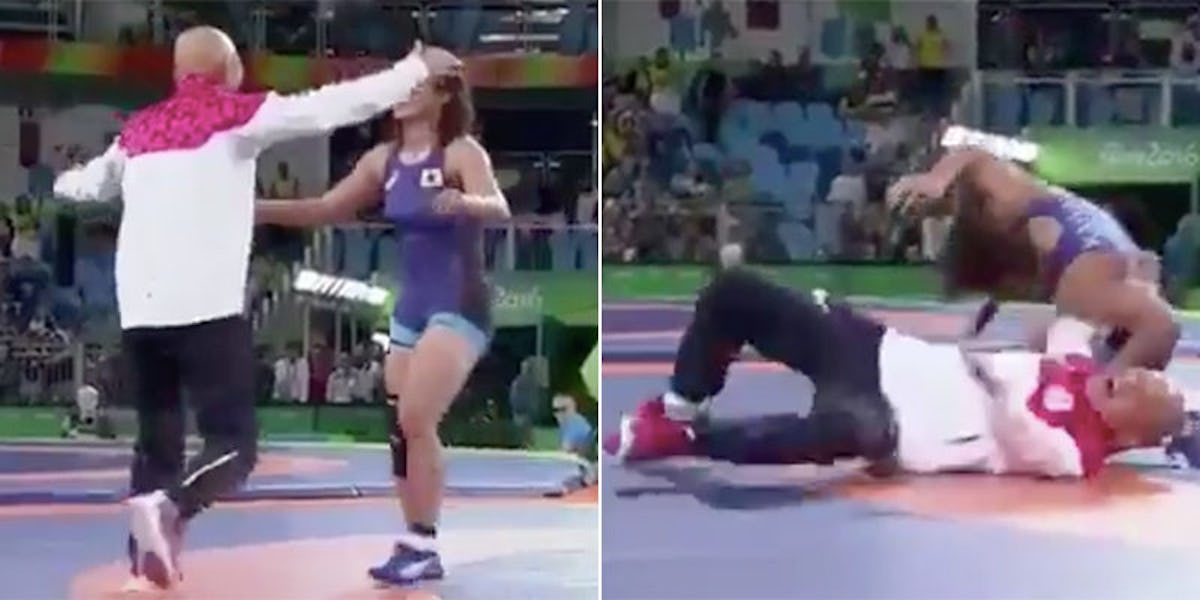 A Japanese Wrestler Won Gold And Thanked Her Coach In The Most Epic Way
Twitter
Japanese wrestler, Risako Kuwai, has won the Olympics celebrations.
After winning the women's freestyle gold medal match against her Belarusian opponent, Kuwai pulled off the celebration of all celebrations in Rio with this unique approach.
Yep, nothing says thank you like picking up your coach, body slamming the moves he probably helped you perfect and letting him sit on your shoulders while parading around your flag.
What a combo.
And make no mistake, this really is the best celebration at the summer games.
We've seen athletes show off (hello, Usain Bolt). We've seen athletes thank their coach. But we haven't seen many athletes showing off while thanking their coach.
And it looks like the wrestling mat is where all the best celebrations take place. You might have seen Cuban wrestler Mijain Lopez take down his own coach, before performing a little dance that was, let's just say, interesting.
#MijainLopez #cub wins #gold in #wrestling,so does a cringeworthy dance before suplexing his coach. Love this man pic.twitter.com/Yoj6yJeeax — Chris Andre (@ChrisAndre6) August 19, 2016
Still, Risako Kuwai took things to a whole new level, and with her being just 21 years old, we might see her do it again in future Olympics.