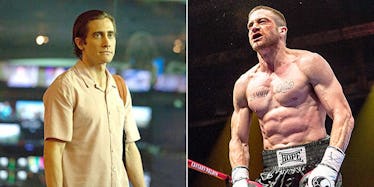 How Jake Gyllenhaal Got In Ridiculous Shape To Play A Boxer In His New Movie
Nightcrawler/Southpaw
The difference between good actors and great ones is that great actors transform their entire lifestyle to live in that role.
Sometimes, that only means shaving their head, growing a gnarly beard or gaining 40 pounds, but for Jake Gyllenhaal's new film "Southpaw," he actually trained to become a legitimate boxer.
Director Antoine Fuqua had a clear vision for his role and didn't want any excuses. Before shooting, he told Jake,
You have to train like a fighter. I can't have you faking it. You have to be in the gym twice a day, every day even on Sundays.
That's exactly what he did and not only that, but Fuqua joined Gyllenhaal in the gym and trained side-by-side his starring actor for a role that demanded no shortcuts.
This is how Jake Gyllenhaal trained his ass off to become a real boxer:
Jake Gyllenhaal put on 15 pounds of muscle to play Billy Hope in his new movie "Southpaw."
It may not look like it, but he was 30 pounds heavier for his last role as Louis Bloom in "Nightcrawler."
Now, the 34-year-old actor is a lean, mean boxing machine.
To get his body in tip-top shape, he trained two times a day for six months.
That's six hours every day, including Sundays.
The film's director, Antoine Fuqua, who's done movies like "Training Day," trained with him.
Jake's workout regimen every day included 2,000 sit-ups, push-ups, dips, running five miles...
...and, of course, flipping 350-pound tires.
Not only that, but Jake learned the sweet science of boxing.
His trainer, Terry Claybon, says Gyllenhaal wasn't in any shape at all when they first met and could barely even jump rope.
But after nonstop training, Claybon says he now sees more confidence in Jake both inside and outside the ring.
He's so confident that he didn't even need a stunt double for the movie.
He learned the art of defending and even took some bumps like a real champ.
He could probably do this sh*t in his sleep at this point.
Since finishing the movie, Jake Gyllenhaal is actually still training like a boxer.
He's learning even more by hanging around boxers these days.
Hell, he even spends his birthdays in the gym now.
If you want to watch a movie where an actor puts his heart and soul into a role, "Southpaw" comes out July 24.
And keep an eye out for a real bout involving Jake Gyllenhaal one day... maybe.