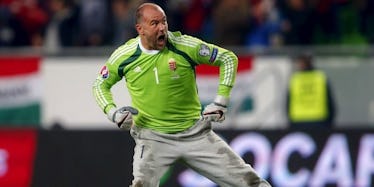 A Euro Goalie Is Playing In Sweatpants, And Twitter Is Going Wild Over It
REUTERS
At the moment, Hungary and Austria are duking it out in their opening match at Euro 2016 in France.
The game is competitive enough, with chances coming at both ends of the field, however, the main talking point on Twitter right now is Hungary's 40-year-old goalkeeper, Gábor Király, and his I-don't-give-a-fuck sweatpants.
Yes, this dude is playing at the European Championships, in 2016, in grey sweatpants.
As you can probably imagine, Twitter is going wild right now with Király and his grey sweats, so it's only right for us to go through the best tweets about this 40-year-old fashion icon.
The only thing Király is missing with his sweatpants is a pair of Steph Curry's new kicks.
Yeah, this 40-year-old probably has more than a few places where he looks for love.
The obvious joke is the 40-year-old Király is really out on the field looking like a father playing with his kids.
Apparently, this dude plays in sweatpants all the time.
Some folks can't even believe what they're seeing.
Which is understandable, really, when you consider most soccer fans have never seen a player run around in sweatpants during a game.
This little fact probably isn't doing Gábor Király any favors at Euro 2016.
At least he has a few fans hailing him for his, uh, innovative style.
Yes! Go on Hungary goalkeeper with your trackie bottoms!! The 90s aren't dead after all pic.twitter.com/k9WRTusJVy — Lara © (@laazarini7) June 14, 2016
For the most part, though, this is the prevailing opinion on Twitter of Gábor Király.
Keep doing you, Gábor.