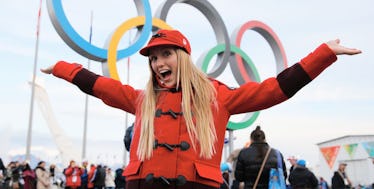 Oh, Canada! 13 Of The Hottest Athletes From The Great White North
Getty Images
I don't know about you, but I love Canada. Do you want to know what else I love? Canadians.
I'm unsure if it's the accents or the jovial nature that they all seem to possess, but I can't seem to stop daydreaming about the day when I, as an American, will get accepted by the Canadians as one of their own.
In the meantime, I'll continue to share my praises of them.
One of these praises has to be Canada's athletes. If you didn't know this, Canada has really attractive sports stars. They're hot like maple syrup on a fresh pancake.
So, I figured I'd be generous and share with you 13 of the hottest Canadian athletes around. Now, Canada is known for its winter sports such as hockey and, uh, hockey.
However, there are so many sports that Canadians dabble in.
While I am partial to hockey, it's important to acknowledge all of the sports stars that make our eyes happy. Let's do this.
1. Tom Wilson,  21
Sport: Hockey
Born: Toronto, Ontario
He was drafted into the NHL at 19 and currently plays for the Washington Capitals. He's also known as my favorite hockey player on my favorite hockey team.
His hair, his jawline and his suit are all amazing. Just take it in.
2. Kimiko Zakreski, 32
Sport: Snowboarding
Born: St. Albert, Alberta
Kimiko made it to the 2010 Olympic Games and is currently a realtor. She is quite the Renaissance woman, if you will.
3. Justine Dufour-Lapointe, 21
Sport: Freestyle skiing
Born: Montreal, Québec
She won the gold medal in Sochi and still managed to look like an angel as she cried.
4. Taylor Pischke, 22
Sport: Volleyball
Born: Winnipeg, Manitoba
According to her Instagram bio, she's a pre-med student on top of being a decorated professional volleyball player. She's also super cute.
I'm not jealous, but you are.
5. Gavin Smellie, 29
Sport: Sprinting
Born: Papine, Jamaica
He and his 4x100m relay team almost won bronze in London four years ago, but were disqualified for a lane violation. On the bright side, he accomplished his dreams just by making it to the games.
6. Jennifer Abel, 24
Sport: Diving
Born: Montreal, Québec
Her participation in the 2008 Olympics at age 16 made her one of Canada's youngest ever divers to compete in the games.
Look at that smile. You can't not love that smile.
7. Matt Margetts, 28
Sport: Freestyle skiing
Born: Victoria, British Columbia
It's a blessing that people who look like him can exist.
8. Braden Holtby, 26
Sport: Hockey
Born: Lloydminster, Saskatchewan
He's the Washington Capitals goalie — the savior of the team — and he also shares the top two spots with Tom as cutest players on the Caps. Anyone could love his beard.
9. Kadeisha Buchanan, 20
Sport: Soccer
Born: Toronto, Ontario
According to her profile on her university's website, Buchanan was named a Best Young Player honoree at last year's Women's World Cup. Her hair is also #goals. (That pun wasn't on purpose, scout's honor.)
10. Blake McGrath, 32
Sport: Dance
Born: Mississauga, Ontario
He dances, he sings, he choreographs and to round it out, he and his husband make me want to pack up and move into a gym.
11. Simon Kean, 27
Sport: Boxing
Born: Trois-Rivières, Québec
He qualified for the 2012 Olympics, and he's a giant. At 6'5" and 243 pounds, he could carry you everywhere and make you feel as light as a feather.
12. Adam Hadwin, 28
Sport: Golf
Born: Moose Jaw, Saskatchewan
His scoring average so far for 2016 is 70.941, but his eyes are what everyone is really here for.
13. Caroline Calvé, 37
Born: Hull, Québec
She's a native athlete and was one of four athletes to compete for Canada at the Sochi Olympics. Her face is also perfect.
There are 13 of the most attractive sports players that Canada has to offer. Thank you, Canadians. You've done your nation proud.