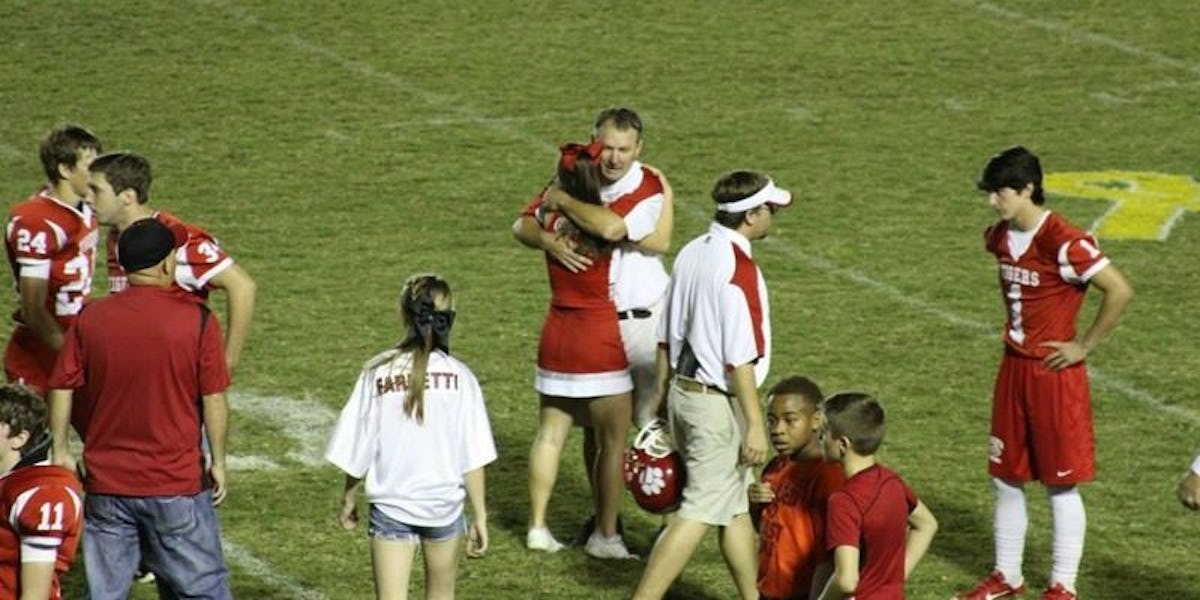 Homecoming Queen Perfectly Kicks Extra Point In School's Football Game (Video)
Jodie Farnetti is a senior at West Blocton High School in Alabama, where, based on our knowledge of college sports, football is king.
Jodie's father, Gregg, is the head football coach at Blocton, and when his daughter was a freshman, he promised he would let her kick in a game if her skills were up to snuff.
Well, Jodie was up for the challenge. She kicked one of two extra points and helped her school win its homecoming game 19-7.
After her heroic feat, Jodie was embraced by her father, her teammates and the cheerleaders she's normally with on game days.
Homecoming queen Jodie Farnetti makes history with her point after touchdown kick in West Blocton's Homecoming victory over Oak Grove 19-7.GO TIGERS! Posted by Brian Wallace on Friday, October 16, 2015
At halftime of the game, Jodie was also crowned homecoming queen, because what can't this young woman do?
Jodie is kicking ass and taking names, and we hope nothing stands in her way.
Always family #rollblocton pic.twitter.com/IWuJWgwsak — Jodie Farnetti (@JFarnetti) September 20, 2014
Roll, Jodie!
Citations: Homecoming Queen Kicks Extra Point In High School Homecoming Game (Fox Sports)