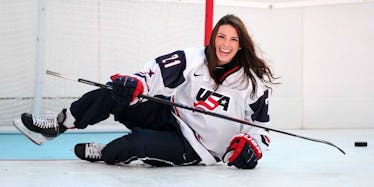 Hilary Knight Is Pro Hockey's Next Big Thing, You Just Don't Know It Yet
Getty Images
Hilary Knight, 26, was recently dubbed the "Wayne Gretzky of women's hockey," and while comparisons to The Great One rarely imply anything but the highest of compliments, that accolade is more complicated for Knight than it might be for an NHL sensation.
Knight is a US Olympian, world champion and collegiate champion, and she's the face of the National Women's Hockey League, the first pay-for-play women's hockey league, both on and off the ice.
So, does Knight want to be known as the Gretzky of the women's game or just one of the premier hockey players of our time? She told Elite Daily,
I'm kind of uncomfortable with both titles. My goal every time I step on the ice is to be the best hockey player in the world. Wayne Gretzky is a world-renowned hockey player, so it's definitely an honor to be compared with one of the greats.
Hockey players are known to be stoic, straight-talking individuals, so I wasn't surprised to get such a PC answer from Knight, but after a little more conversation, it became apparent this hockey phenom isn't like any who has laced up a pair of skates before her.
A Palo Alto, California native, Hilary Knight currently finds herself in New England, playing for the NWHL's Boston Pride and fielding daily questions about what it means to be a hockey player, role model and torch-barer for female athletes everywhere.
She told Elite Daily,
In one respect, it's really frustrating because you just want to be respected for your on-ice performance and [field] questions [just] regarding your on-ice performance. But, in another respect, you have to understand where the sport is. It is a responsibility to really get the word out there and develop a good relationship with the fan base and do a lot of leg work right now.
Still, hockey is hockey, no matter who's skating up and down the ice. First and foremost, Knight is a hockey player, and she's a steadfast student of the sport. She told Elite Daily,
It's a dynamic game, and it's extremely competitive. I think that's something that's extremely special. What separates hockey communities and other sporting communities is the fiery passion that each player has, and each fan has, for their respective club. Any given day you go into a game, it's 50/50 because the game's so dynamic.
Having to promote your own product is something all NWHL players have to do in order to help ensure the long-term success of the league -- such is life in a developing women's professional sports league -- but the burden which falls on Knight is far heavier than the weight on any of her colleague's shoulders.
Being the best, no matter what job you hold in life, comes with added responsibilities, pressure and attention. If the 26-year-old has a bad game or doesn't act like a mature veteran every night, she will undoubtedly fall under the microscope more than any other player.
Again, though, Knight refuses to use the pressure as an excuse to be anything less than who she was raised to be. She told Elite Daily,
I hope that I'm a very respectful person, and I hope those tendencies carry onto the ice. Because of my character and who I am, it's not an extra test for me to go about my day being more respectful than someone else. It's how I was brought up. At the same time, when I do get on the ice, everything is between the glass; it's when I'm free, have fun, compete and play hockey.
Being that March is Women's History Month, I thought it important to ask Knight about her female role models growing up, as well as what this special month means to her. She told Elite Daily,
My mom is a huge hero. She said "Oh, girls don't play hockey? She likes hockey, she's playing hockey. It doesn't matter if she's a girl or a boy. She loves the sport. She's going to play." To have such a strong figure in my life, and sort of a backbone, is instrumental to my success now. I think [Women's History Month is about] paying respect and giving credit where credit's do, as well as seeing the growth of women's sports and all of the people it's taken to get women's sports to where they are now.
Knight isn't naive about her responsibility to future generations of female athletes. However, she appears to see it more as an opportunity than as a responsibility. Knight told Elite Daily,
Right now, I am able to speak on different issues and really inspire women's sports in general. That's something that's really important, and I'm really honored to be a part of it. The power is in our hands to really advance the growth of women's sports.
The captain of the Boston Pride leads the NWHL in points (33), goals (15) and assists (18), and while she's more than happy to talk about being featured in ESPN's Body Issue, progressing women's sports, listening to Drake and chowing down on Margherita pizza, at the end of the day, she's a competitor who cares above all about winning.
She's about to lead her first-place team into the NWHL playoffs, where her focus will be solely on trying to win another championship for a city that prides itself on trophies.
Knight told Elite Daily,
It sounds cliché, but our pride is on the line. We're a very competitive group, and we want to win. Anything short of the Isobel Cup is definitely a failure in all of our minds. A consolation prize at any level will not be accepted.
From one of the world's best hockey players, who would expect anything less?