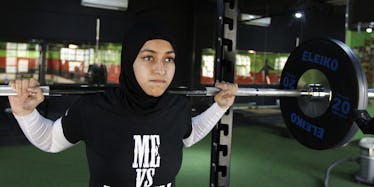 Meet The 5 Hijabi Women Who Are Breaking Barriers In Sports
Reuters/Jumana El-Heloueh
It hasn't been easy being a hijabi in the sports world. Especially when it comes to uniforms. Muslim female athletes around the world who choose to wear the headscarf, or hijab, abide by certain rules of modest clothing that don't always meet sport regulations.
It wasn't until recent years that international sports federations started taking note. In 2012, the International Volleyball Federation finally altered its rules to allow a less revealing uniform at the London Olympics after various countries lobbied for it. And it was only in 2014 that FIFA officially allowed soccer players to wear turbans and hijabs.
Luckily, there are badass Muslim women who challenge the status quo while rocking their hijabs and dominating in their respective sports.
1. Ibtihaj Muhammad, Fencer
Ibtihaj Muhammad is a 30-year-old saber fencer from New Jersey who will be the first American athlete in hijab to compete at the Olympic Games this summer.
In her USA Fencing bio she wrote, "When most people picture an Olympic fencer, they probably do not imagine a person like me. Fortunately, I am not most people. I have always believed that with hard work, dedication and perseverance, I could one day walk with my US teammates into Olympic history."
Muhammad started fencing when she was 13 years old after her mom encouraged her to try it out, since she could play the sport while remaining fully clothed. Her talent, passion and courage has caught the attention of many.
In February, President Obama gave Muhammad a shout out during a speech at his first mosque visit since presidency. Earlier in March, she showed off her fencing moves on "Ellen." As Obama has said, bring home the gold, Ibtihaj.
2. Amaiya Zafar, Boxer
Amaiya Zafar is a 15-year-old amateur boxer from Minnesota. Zafar wears her hijab, a long-sleeved shirt and leggings underneath her shorts and tank top when she boxes. In September, Zafar wanted to compete in a USA Boxing-sanctioned event, but couldn't due to an international boxing rule stating that boxers can't cover their arms or legs below the knees.
So Zafar, her family and CAIR, a Muslim civil rights and advocacy organization, pushed USA Boxing to request a provisional ruling from the International Boxing Association to let her box in modest clothing. The USA Boxing Executive Director Mike Martino told the Star Tribune the rule is in place for safety reasons and doesn't think it will change anytime soon.
Although the rule still stands, Amaiya continues to pursue her boxing dreams by training at her local gym. "Boxing is really important to me, but so is practicing my religion. And I don't want to compromise one for the other. I want to be able to practice my religion to the full extent and to participate in my sport. Taking off my hijab isn't an option for me," Zafar told MPR News.
3. Stephanie Kurlow, Ballerina
At 14 years old, Stephanie Kurlow from Sydney, Australia dreams of becoming a professional ballerina. After she converted to Islam in 2010, Kurlow quit dancing because she couldn't find a ballet school that would accommodate her modest clothing.
In January, she created a crowdfunding campaign so she could train in a full-time ballet school for young girls. On her way to chase her own dreams, Kurlow hopes she inspires other young girls to do the same, no matter the obstacles.
Eventually, Kurlow wants to open a diverse performing arts school for kids and teens of various religions, races and ethnic backgrounds, she writes in the campaign.
4. Zahra Lari, Figure Skater
Zahra Lari is a figure skater from the United Arab Emirates. The hijabi ice princess started ice skating when she was 11 years old, she told Arabian Business.
In 2012, Lari was the first figure skater from the Gulf region to compete in the European Cup. Now, she is training to compete at the 2018 Winter Olympics. If she does, she'll be the first Emirati to participate in the winter games. "I want to prove that not only can a covered Muslim female but also someone coming from the desert, participate in a winter sport at the Winter Olympics. That would be an amazing thing for me to do," she told Arabian Business.
5. Amna Al Haddad, Weightlifter
Amna Al Haddad is a 26-year-old Emirati weightlifter. Her love for a healthy lifestyle ultimately led her to weightlifting. She started out doing CrossFit and in 2012, she became the first hijabi to compete at CrossFit Asia, according to her crowdfunding campaign in January.
In 2013, she was also the first hijabi to compete at the Arnold Weightlifting Championship in Ohio. Just last year, Al Haddad won six gold medals and three silver at the International Weightlifting Federation Asian Interclub Championships in Jordan. This month, Al Haddad will find out whether or not she will have a spot in the Olympics this summer when she competes in the Asian Championships in Uzbekistan.