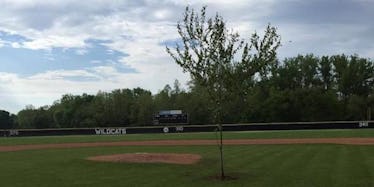 Prankster Plants A Tree In The Middle Of A High School's Baseball Field
This prank in Ohio is a real winner.
Franklin High School's athletic director, Brian Bales, was surely dumbfounded when he got a bit of interesting news on Saturday.
He was quoted by MaxPreps as saying,
I got a call from our parks and recreation guy saying that we might have to cancel the doubleheader. The weather was beautiful out, so I asked him what for. He told me there was a 25-foot tree planted between home plate and the pitcher's mound.
A picture of the scene of the crime soon did its rounds on Twitter -- to the tune of over 12,000 retweets.
Thanks to whoever put a tree on our baseball field pic.twitter.com/JQbOY1g1vu — Evan (@MargerumEvan) May 9, 2015
The tree has since been removed, but even Bales had to give credit for how original the prank was.
He said,
I've seen a lot of pranks but that's a new one... I'm going to look into it, and there will be consequences.
If that consequence doesn't involve a better comeback prank, though, Bales might as well just take the loss on this one.
Citations: Someone pranked a high-school baseball team by planting a tree on the field (For The Win)