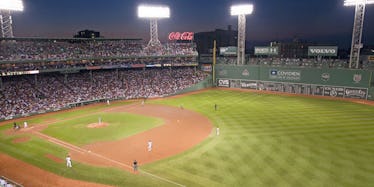 5 Reasons To Take A Trip To Fenway Park This Summer
Shutterstock
Summer is here, and everyone is looking for something to do with their free time when they're not slaving away at work.
You have the classic summer activities, like going to the beach, hiking, have a cookout, etc. Those options are always at your exposure, but it could be fun to mix it up and do something new.
In my opinion, one of the best summer takes is going to a Red Sox game. Here are five reasons why you should take a trip to Fenway Park this summer:
1. It's a great date spot
Trying to have a good, non-awkward first date? A Red Sox game is the perfect choice. Going to the movies is outdated and quite frankly, doesn't make sense.
You're sitting next the person in the dark in silence for two hours, and you're unable to talk to them and get to know them. A standard dinner forces you to keep conversation afloat for the extension of the meal, which is often hard to do.
A Sox game gives you the option of both. You and your date can chat it up, all while enjoying the boys of summer take the field. If there's a break in conversation, you can just watch the game for a bit. Kind of a no-brainer if you ask me.
2. Tickets are cheap
Purchasing a pair of tickets won't break your bank either. Outfield bleacher seats, which honestly have the best view of the park, generally go for around $25-$40. That is definitely going to be money well spent.
Sure, you are probably going to spend double that amount in food and beers, but simply going to the game is very affordable. If you're trying to save up your cash in order to pay off those student loans, catching a Sox game won't be too much of a hindrance.
3. You can have fun in the city
If you're planning on going to the game, you might as well make a day of it. Whether it be a day trip prior to the game, or enjoying the nightlife after it, Boston is a surefire city for good times.
You can do some sight seeing around the city, hit up some great restaurants and of course, swing by a bear or two on Lansdowne Street. The game itself will be fun, but if you're already in the city, you might as well double down and make it one hell of a day.
4. The ambiance
There's just something about Fenway Park that makes you feel good inside every time you walk into it. No matter how many times you've set foot inside the 100-year-old ballpark, it resonates with you every single time.
The smells of the freshly cut grass and wildly overpriced but tasty food, the sight of the gargantuan green monster in left field and the sound of 40,000 people coming together as one to sing "Sweet Caroline" is invigorating.
Even if you're not a baseball fan, it would be tough not to enjoy all that Fenway Park has to offer.
5. The Sox are good this year
No one wants to attend a game that features a team that sucks. Luckily, the Sox are rolling this year, and are poised to be one of the better teams in the league.
There's a good chance you will see a mammoth home run from David Ortiz, slick defense from Jackie Bradley, Jr. or maybe a dominating performance on the mound from David Price. It is evident that this ball club has some magic this season, and they're a joy to watch every time they take the diamond.
You don't have to be a Red Sox, baseball or even sports fan to enjoy taking in a Red Sox game. It is a great summer activity for a date, catching up with some buddies or bonding with your parents.
So take a trip to Fenway Park this summer, you won't regret it.