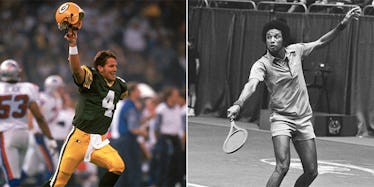 50 States, 50 Greats: Who Is Really The Greatest Athlete From Each State?
Facebook/Wikimedia Commons
How much does it take for an athlete to become beloved by a certain community?
Is it just a matter of being good, or do these athletes have to career with them an added sense of significance that goes beyond their mere production?
We figure it's a combination of both. And, because our generation is obsessed with lists, we could not resist putting together the following.
Welcome to our discussion of sports' greatest patron saints.
Much like actual saints, these athletes were chosen to represent each of the US' 50 states, not only for their greatness, but also for how much their successes suited the areas they are from.
This list seeks to answer one question: Whether it's because they grew up there, or had an extended run with a specific team, which athletes deserve to be the most revered in each state?
So, without further adieu, here are the hallowed stars:
Alabama — Bo Jackson
At Auburn, Jackson was a football, baseball and track and field star.
As a pro, he earned All-Star honors in both the NFL and MLB, a feat no other man has accomplished.
These days, Jackson continues his athletic endeavors, even if slightly, via his Bo Bikes 'Bama campaign. Bo Jackson is simply the ultimate athlete.
Alaska — George Attla
By the Alaska Dispatch News' own account, Attla's exploits as a Sprint Musher made him a "rockstar" in Alaska for three decades.
His great, 54-year career spanned seven decades, during which he won 10 world championship titles and eight North American titles in a sport that was once of Alaska's most popular.
Arizona — Kerri Strug
Strug had perhaps the single most inspiring moment of the 1996 Olympics in Atlanta when she helped the unforgettable Magnificent Seven of the US women's gymnastics team to gold medals on an injured ankle.
At the world's grandest athletic competition, Strug made herself immortal.
That's a patron saint-type of accomplishment.
Arkansas — Scottie Pippen
The fact that Scottie Pippen's career at the University of Central Arkansas had him playing outside of Division I basketball makes his journey to NBA stardom even more remarkable.
Today, he is known as much for being one of the greatest two-way players in league history as he is for being Michael Jordan's right-hand man. MJ isn't the only one with six rings.
California — Serena Williams
The whole of this list has been reserved for figures who have put their playing days beside them, except this one. Serena Williams is quite simply a living legend.
She rose from the improbable odds of learning tennis in Compton to owning the world stage.
She is the winner of 20 grand slams and her dominance has lasted far longer than it should, by tennis' standards.
The fact that she is halfway home to the realistic prospect of a grand slam at age 33 is only a testament to her greatness. She is the GOAT.
Connecticut — Steve Young
After starring as a three-sport athlete at Greenwich High School, Young went on to excel at BYU before carving out a Hall of Fame career in San Francisco, where he became a Super Bowl winner.
He wins this race by a landslide.
Colorado — Jack Dempsey
Dempsey is a boxing great of a time during which the sport was much more popular than it is now.
The man who began his career brawling in Colorado clubs was also the first fighter to attract a $1 million in gate revenue, according to ESPN.
From 1919 to 1926, with three of those years being used as a break, he held the title of heavyweight champ.
Delaware — Tubby Raymond
Raymond was an accomplished athlete, but most of his athletic prowess was reserved for the University of Michigan, where we played both football and baseball.
His impact on Delaware sports is even more substantial, though, having tallied 300 wins as head coach of the University of Delaware Fighting Blue Hens and over 150 wins as coach of the school's baseball team during 35 years of service.
Florida — Deion Sanders
Sanders was a three-sport star in both high school and in college at Florida State.
His most notable achievement came on the football field, where he became an All-American for the Seminoles and won two Super Bowls in the NFL.
He was so good on the gridiron, it's almost easy to forget he had a whole MLB career while he winning eight NFL Pro Bowl appearances.
Georgia — Herschel Walker
After winning a state championship during a high school career that saw him play three sports, Walker won the Heisman trophy at the University of Georgia, where he was a three-time All-American.
Over a decade removed from an NFL career that saw him earn two Pro Bowl selections, he was still been able to keep his athletic career going in 2010 the age of 27, when he competed in his first fight as an MMA fighter.
Hawaii — Duke Kahanamoku
Kahanamoku didn't only win five Olympic gold medals.
"The Duke" popularized the sport of surfboarding and carved out the type of career that earned him the legacy of a man who was important in both athletic and social spheres.
Idaho — Harmon Killebrew
The pride of Payette, whose rise to fame began via Idaho semi-pro ball, was a home run king, having retired only third behind Babe Ruth and Hank Aaron in career home runs.
His 11 All-Star game selections with the franchise, who eventually became the Minnesota Twins, make him one of the team's greatest players ever.
Illinois — Dick Butkus
The Chicago native had his jersey retired by two of his home state's biggest sports institutions, the Illinois Fighting Illini and the Chicago Bears, for whom he became one of the greatest linebackers in NFL history.
Indiana — Larry Bird
Not only did Bird become a legend of high school basketball in Indian, where the sport is most revered, he went on to lead Indiana State to its only NCAA Championship appearance.
And, after becoming an NBA icon with the Celtics, he then led the Indiana Pacers to the NBA Finals in 2000.
Now, he heads the franchise as the team's president. His service to his state's most cherished game makes his selection here well deserved.
Iowa — Kurt Warner
In high school, Warner was an unheralded prospect. At Northern Iowa, he started just one season.
After going undrafted at the 1994 draft, he pro career didn't take off until he began playing in the Arena Football League with the Iowa Barnstormers, but only after bagging groceries at a local supermarket for $5.50 per hour.
Two decades later, Warner is an NFL Network analyst with a Super Bowl ring in his back pocket and two NFL MVP awards to his name.
Kansas — Dean Smith
Not only was Smith apart of the Jayhawks' 1952 national champion basketball team, he went on to become one of the greatest college coaches to ever live.
As UNC's head man, Smith delivered two national championships to Chapel Hill, where he recruited a long line of bonafide stars, from James Worthy to Michael Jordan to Vince Carter.
Kentucky — Muhammad Ali
Basketball may be king in Kentucky, but Ali still sits atop the throne as the greatest athletic product to ever come out of the state.
His accomplishments need no reciting. Everyone knows what he has done, and it's for that reason we simply refer to him as "the greatest."
Louisiana — Bob Petit
Peyton Manning may be Louisiana's greatest athletic product, but Pettit just gets the nod for his years of service to LSU, where his jersey is retired.
It's there, in his hometown, that Pettit twice earned All-American honors before forging a stellar NBA career that saw him win a championship, two MVP trophies and make 11 All-Star appearances.
Maine — Cindy Blodgett
The type of collegiate basketball career that Blodgett had at the University of Maine is unheard of.
The Clinton native led Maine to four conference titles, which landed the school its first four births in the NCAA tournament.
Clinton also earned All-American honors during each of her four years and led the nation in scoring on two occasions.
Maryland — Cal Ripken, Jr.
The fact that Ripken, Jr. came from a famous baseball family in Maryland and became a Hall of Fame ballplayer is impressive enough. But he also played every game of his two-decade-long career in Baltimore, at a time when the DC-Maryland-Virginia area had just one team.
Cal is definitely the (Iron) man for Maryland.
Massachusetts — Rocky Marciano
The real Rocky is one of few athletes who made reality better than fiction.
While Sylvester Stallone depicted the ultimate underdog, Marciano was the top dog in heavyweight boxing for virtually the whole of his career.
By the time he hung his gloves up, he'd knocked out 43 out of his 49 opponents, none of whom ever exited the ring victoriously.
The man they called "The Brockton Blockbuster" is still the only undefeated heavyweight in history.
Michigan — Magic Johnson
In high school, Johnson became a living legend in his state, where he turned a no-name basketball team at Everett High into state champions.
After earning McDonald's All-America honors, he stayed near his hometown of Lansing to take his legendary status to Michigan State, where triumphed over Larry Bird for the 1979 NCAA Championship, a game that foreshadowed their subsequent decade-long tug of war for NBA supremacy.
Now, Magic has parlayed his athletic success into a remarkable business career.
I'm excited to announce that I have acquired EquiTrust, a $14.5B financial services company... — Earvin Magic Johnson (@MagicJohnson) June 23, 2015
Minnesota — Kirby Puckett
You can argue whether or not Kirby Puckett is the greatest player ever to play for the the Minnesota Twins, but there's no contesting he is the most beloved.
The tragedy of his playing career will always be the fact that an eye injury kept him from adding to 10 All-Star game selections.
Mississipi — Jerry Rice
There's no way the former Mississippi Valley State standout and greatest wide receiver in NFL history would not be on this list.
And the fact that Rice's accolades are too numerous to even bother mentioning speaks for itself.
Even further, the fact that his career spanned 20 years, which is unheard of, indicated just how much a marvel of an athlete he is was.
Missouri — Stan Musial
Stan the man had more than a distinguished baseball career; he had a distinguished life.
Sure, he earned 24 All-Star game appearances, set numerous individual records and won three World Series rings as a player and one as a general manager, all with the St. Louis Cardinals.
But the most revered man in Cardinals history also was a Navy serviceman, an advisor to President Lyndon B. Johnson and a recipient of the Presidential Medal of Freedom.
Montana — Dave McNally
McNally remains what Ryan Leaf was supposed to become, Montana's greatest sports success story.
McNally had a modestly great career that saw him win three All-Star appearances, two World Series and a trio of 20-win seasons.
Nebraska — Bob Gibson
Gibson's contributions to sports go far beyond his nine All-Star appearances, two Cy Young awards and two World Series rings with the St. Louis Cardinals.
In his home state of Nebraska, Gibson also became an All-State basketball player at Omaha Technical High School and became the first black basketball player at Creighton University, where he averaged over 20 points during his career.
Nevada — Andre Agassi
Andre Agassi was as Las Vegas as you could ask an athlete to be. His unique hairstyles and outfits gave him a totally unmistakable flair.
And his eight grand slam titles, most importantly, make him an unquestionable great for American tennis.
New Hampshire — Carlton Fisk
Fisk's original plan was to be a basketball star.
"What I really wanted to be was a power forward for the Boston Celtics," he told ESPN. but after being recruited to the University of New Hampshire for both basketball and baseball, Fisk found his way.
But after being recruited to the University of New Hampshire for both basketball and baseball, Fisk found his way.
He was eventually drafted by the Red Sox, which began a career that saw him earn 11 All-Star appearances during a career that spanned 24 years.
North Carolina — Michael Jordan
With Jordan being perhaps the greatest performer America has ever produced, he wins his place here almost by default. He is still the single most recognizable and glorified name the NBA has ever had.
Even then, however, the McDonald's All-American honors he earned in high school, his NCAA championship with the North Carolina Tar Heels and his leadership of the Charlotte Hornets means his sporting ties to the state are as strong as any athlete's on this list.
North Dakota — Phil Jackson
Jackson led Williston High School to two North Dakota state basketball championships before graduating and moving on to play at the University of North Dakota, where he averaged over 27 points as a senior.
The rest, from there, is history as Jackson went on to win 12 NBA titles, one as a player and 11 as a coach.
New Jersey — Derek Jeter
After moving on from his Jersey roots at the age of four, Jeter frequently returned to the state during summer for stays with his Yankee fan grandparents.
He promised his father as a teen he'd become a player for the Yankees, and fulfilled that promise in emphatic fashion. That, in turn, made him the perfect idol for the tons of Jersey kids who, like him, love the Yankees.
New Mexico — Brian Urlacher
In his hometown of Lovington, Urlacher is legend not only for leading Lovington High School to a football state championship in 1995, but also for his consistent charity work in the town during his career.
Urlacher also earned All-American honors at the University of New Mexico, where his jersey is now retired. He earned eight Pro-Bowl appearances in 12 years with the Chicago Bears.
New York — Lou Gehrig
From his days in high school, to his time as a standout out at Columbia University, to his 17-year career with the Yankees, the six-time World Series winner achieved his entire athletic career in the city of New York.
The "Iron Horse" was also baseball's original Iron Man, with the Big Apple native having played 2,130 consecutive games before having his career cut short by a diagnosis of ALS, which soon became known as Lou Gehrig's disease.
Oklahoma — Jim Thorpe
For a man who has been written in history books as the greatest athlete in American history (football, baseball, basketball, track), getting selected as the most distinguished in Oklahoma's state history was never going to be a problem, plain and simple.
Ohio — Jim Brown
Not only is Brown one of the greatest running backs in NFL history, he is also the last man to give Cleveland sports fans a championship team to cheer for, when he led the Cleveland Browns to an NFL title in 1964.
That single feat is as impressive as his nine Pro Bowl Selections and four league MVP awards.
Oregon — Phil Knight
The Nike founder's most notable athletic achievement may only be a seemingly uneventful track career at the University of Oregon, but his impact on sports in his home state, and the world, is substantial.
Knight, by USA Today's account, has donated over $300 million to Oregon's athletic department and commissioned a rebranding that made the Ducks the coolest football team in the country with the coolest jerseys.
Oh, and that's all aside from his being the chairman of biggest sports apparel company in the world.
Pennsylvania — Wilt Chamberlain
Chamberlain not only tore it up at a high school that earned a pedigree by producing NBA talent, he also to returned to the City of Brotherly Love as a member of the Warriors and 76ers.
During his third coming (his three-year stint with the Sixers), Chamberlain led Philadelphia's way to the 1967 NBA championship, before winning another with the Lakers and Jerry West in 1972.
Rhode Island — Bill Belisle
Belisle graduated from Mount St. Charles Academy in 1948, and seemingly never left.
Over 60 years later, the Rhode Island native is still there coaching hockey with a program for which he has given 32 state championships, at one point winning 26 in a row.
Belisle has also produced 20 players who have gone on to be drafted by NHL teams.
South Carolina — Joe Frazier
Smoking Joe Frazier gave boxing its greatest trilogy via his three fights against Muhammed Ali.
And though the former undisputed champ and Olympic gold medalist lost the latter two of the three, his legacy still stands strong.
In fact, it's because he was able to push Ali to the limit, and vice versa, that he will always be remembered among boxing fans.
South Dakota — Mike Miller
Before Mike Miller went on to become a standout with the Florida Gators, he was a two-time prep athlete of the year in South Dakota.
In a career that now features four NBA Finals appearances, his greatest moment is his record seven three-pointers in a 2012 NBA Finals that clinched the Game 5 win with the Miami Heat.
Tennessee — Pat Summitt
As an athlete, Summitt is veteran of women's basketball in her own right, having played for the University of Tennessee-Martin in the days before Title IX paved the way for scholarships for female athletes.
As a coach, she is a legend. In her 20-plus years of leading the Tennessee Lady Vols, Summitt won eight national titles and probably would have won more if it weren't for a heartbreaking fight against Alzheimer's disease that forced her to step down.
Like Musial, she too has been awarded the Presidential Medal of Freedom.
Texas — Tom Landry
Everything great in life that Landry accomplished is rooted in Texas. Landry grew up in Texas, went to high school in Texas, played college football at Texas, received training for World War II army service in Texas, got his master's degree in Texas and, oh, by the way, coached America's most popular team for 28 years, during which he won two Super Bowls.
That says it all.
Utah — Merlin Olsen
Olsen tallied 14 Pro-Bowl selections out of a possible 15 seasons during a career in which he made arguably the greatest defensive tackle in NFL history.
Before his pro career with the LA Rams, though, he was a two-time All-American at Utah State.
Vermont — Andrea Mead Lawrence
Lawrence was a star of the US' 1952 Winter Olympics, so much so that she graced the cover of Time magazine in the run-up to the event in Norway.
And it's at those Olympics that she nailed her biggest claim to fame, as she became the first American to win two gold medals in Alpine skiing.
Virginia — Arthur Ashe
No other Virginian has matched Ashe's importance as a cultural icon while also providing athletic excellence.
The three-time grand slam winner was not only a trailblazer as a black athlete, but his contraction of AIDS brought awareness to a disease for which the nation's knowledge of it was much less sophisticated than it is now.
The fact that he was arrested twice for protesting against injustices — outside the White House at that — only underlines his status as man who was much more than a great athlete.
Washington — John Stockton
Stockton grew up in Spokane, broke high school records in Spokane and had college career worthy of retiring his jersey in Spokane at Gonzaga University.
He did all of that only as an appetizer, and for the main course dished 15,000 assists during an NBA career that saw him become a perennial All-Star.
West Virginia — Jerry West
The man whose silhouette serves as the NBA's official logo is also, hands down, the greatest player in West Virginia basketball history.
With the Mountaineers, West followed up a high school career that saw him win three All-State honors and a state championship by earning two All-American honors in Morgantown.
Between his careers as player and executive, West has won eight NBA titles, the latest of which came in June with the Golden State Warriors.
Wisconsin — Brett Favre
Lambeau Field may be Mr. Rodgers' neighborhood these days, but Brett Favre is still the most respected sporting name in Wisconsin.
In fact, 67,000 fans bought tickets to watch Favre's induction into the Green Bay Packers Hall of Fame when Favre himself wasn't even in attendance.
Yeah, they love him that much.
Wyoming — Kenny Sailors
In 1943, Sailors led the Wyoming Cowboys to their one and only NCAA Division I championship before going on to capture what was then seen as a monumental win against NIT Champion St. John's at Madison Square Garden just two days later.
He's perhaps even more remembered, though, for his importance to the sport overall, having been credited with creating the jump shot. Now that's some feat.