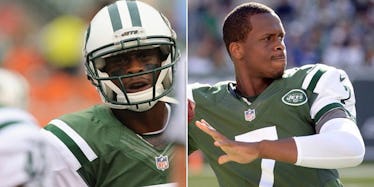 The Geno Smith Knockout Has Turned The Jets Into A Punchline, Again
Facebook
You're a coach or general manager for the Jets, and your starting quarterback, Geno Smith, gets his jaw shattered by his own teammate for owing him $600. He could miss up to 10 weeks.
What is going through your head right now?
It's okay; you don't have to answer right now. But Ryan Fitzpatrick should be a solid enough backup, right?
Won't he get you guys to the playoffs? You don't have to answer that right now, either.
One thing the Jets are aware of is their availability of replacements. Rex Grossman and Michael Vick are two possible candidates who could fill the Jets' QB spot.
They've reached out to Grossman, but Vick is already familiar with the Jets and, well, he can do this:
Maybe the Jets don't have too much to be worried about, or maybe they do.
Geno Smith was looking sharp in training camp, throwing accurate passes and making the right decisions. Who knows how well he would've come out to start the season, especially with the addition of Brandon Marshall?
Is he going to come back strong into the starting lineup, or will they decide to keep Fitz, Vick or Grossman at the starter position if they actually end up doing well?
What we do know is this is certainly not a good look for The Jets, who have continually embarrassed themselves the past couple of seasons. (I'm sure we all remember the "Butt-Fumble.")
Ikemefuna "IK" Enemkpali, who socked Smith in the face, will certainly face some sort of punishment for his actions after jeopardizing his team's season.
Fights at training camp happen; we get it. They're hitting each other repetitively out in the heat and getting in each others' faces, so, of course, tempers will flare.
But, there's certainly no need to intentionally put your teammate in a hospital.
There are many other variables that will determine the success of this Jets team without Smith for the first few weeks of the season.
If Geno misses 10 weeks (the maximum timetable for his return), he'll miss the first five or six games of the season, including matchups against the Indianapolis Colts and their AFC East rivals, the Miami Dolphins.
The Jets aren't losing much by letting go of Enemkpali, seeing as he only played in six games in his rookie season with three tackles.
That doesn't mean there isn't pressure on the defense to perform, though. It's often said that "defense wins games," and that's a cliché most football teams can't help but agree with.
The New York Jets were tied with Kansas City last season for the league-low in takeaways, with only 13. They gave it away to their opponent 24 times.
To be quite honest, losing Geno Smith doesn't doom the Jets to another embarrassing or bad season, but it certainly sets the standard for it, simply because of the manner in which he was injured.
The only thing the Jets have left to do now is prove everyone wrong.
They haven't made it to a Super Bowl since Joe Namath. Sometimes, they even seem to be the laughing stock of the league.
But the New York Jets aren't the least-talented group of guys. They just haven't quite had everything together. Sooner or later, though, their time will come. The motivation is there.
Somewhere in the privacy of New Jersey, Todd Bowles is devising a plan. Let's just hope it doesn't lead to any more butt-fumbles.