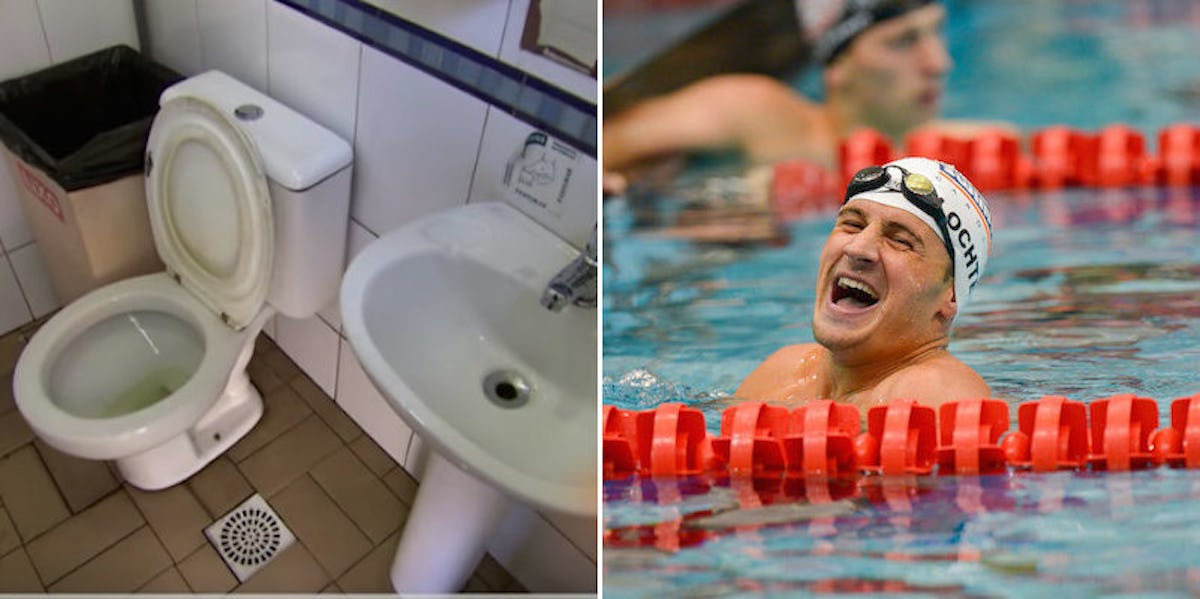 The Gas Station Bathroom Ryan Lochte 'Vandalized' Looks Undamaged In New Video
"TODAY"/REUTERS
In a report aired on Friday morning, there was little sign of the vandalism Ryan Lochte and his teammates were accused of taking part in.
The images come from NBC, which took a look at the same bathroom Brazilian police claimed the four swimmers damaged.
Here's how it looked:
The report was aired on NBC's "TODAY" show, which sent reporter Keir Simmons on a visit to the Shell gas station where Ryan Lochte, Gunnar Bentz, Jimmy Feigen and Jack Conger were thought to have been robbed.
During the report, Simmons noted,
At the back are the restrooms that reports say are badly damaged, but we can see no sign of that now.
But there's reason to believe the lack of damage seen on television is a mere result of time.
Lochte reported getting robbed during the weekend, which gave the gas station days to repair the damages (the swimmers were accused of breaking a door, a soap dispenser and a mirror).
It's also worth pointing out Simmons noted an area outside of the bathroom, where he says "an advertisement appears to have been pulled from the wall."
That would explain why there appeared to be a Shell employee exiting the same corridor with what looked like a broken frame in the security footage of the incident.
As of Friday, two of Lochte's teammates told police the 32-year-old fabricated the story. Meanwhile, a third teammate literally paid the price to leave Rio.
Still, Ryan Lochte has not walked back his claim of robbery.
Citations: TODAY